Love of Country and Medicine
Kerrick Akinola, First-Year Medical Student
The United States Naval Academy prepares young men and women to become professional officers in the U.S. Navy and Marine Corps. As a young boy born and raised in Houston, Kerrick Akinola knew he wanted to serve his country. He remembers memorizing all the military ranks and watching military programs like Judge Advocate General (JAG).
Akinola, a first-generation American with parents from Nigeria, attended DeBakey High School for Health Professions. Although he desired to be in the military, he also wanted to have a career in science, which is considered the best of both worlds.
"I always liked the idea from a young age that science should serve humanity," Akinola said. "The idea that all of our great scientific achievements should ultimately serve mankind. I think medicine is the perfect way to do that: by working to improve lives through medical science. It lingered with me since I was kid, and I didn't realize it until I was older. But I also wanted to serve my country."
While in high school, he had the opportunity to go to the Naval Academy and knew he would regret it if he did not go. He knew that attending the Naval Academy could potentially mean postponing his dream of medical school. Yet, Akinola decided to apply anyway.
"I had a burning desire to go to the [Naval] Academy, and I told them I did not know how to swim," Akinola said. "Luckily, swimming is not a prerequisite. They teach you while you're there and literally throw you into the deep end. It was very challenging. I would struggle and barely pass the swim tests. I took extra classes."
In his junior year at the Academy, Akinola was faced with his most daunting swim test yet, one required of all Naval Academy students called the "40-year Swim." The test is a 40-minute swim, nonstop in uniform where the student must swim at least one kilometer without touching the sides of the pool. Akinola failed the test.
"So after failing it a couple of more times, I got a letter saying if I did not pass the test I would not graduate the following year," Akinola said. "Initially I was terribly disappointed when I got the letter. I fought tooth and nail to make it through there. I had worked so hard to pass the academics, physical fitness tests, and everything else and here I am about to fail out for not passing a swim test. I couldn't accept that. So shortly after receiving the letter, I tripled my efforts. I failed that test at least a dozen more times, but I learned a lot from failing and knowing when to ask for help was humbling."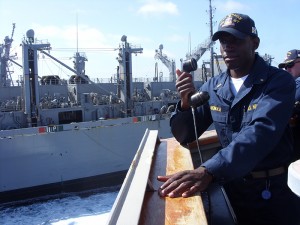 Akinola swam. He dedicated his efforts to swimming every free moment he had. He swam on weekends, afternoons, with swim coaches and friends. He eventually passed the swim test in the fall of his senior year.
"One of the most profound lessons I learned from failing that swim test literally dozens of times, was perseverance. Don't give up, no matter what. The Academy taught me a lot about myself."
In 2008, Akinola graduated with a Bachelor's Degree in Chemistry and begin serving the U.S. Navy. He would serve nearly six years on numerous missions and received several accommodations from the U.S. Navy. Akinola served on the USS Mason as an officer in the engineering department in charge of the auxiliary equipment (e.g. refrigerators, air conditioning units, reverse osmosis water plants, etc). He also served on the USS Oscar Austin as the Navigator. On that tour, Akinola was in charge of the safe navigation of the ship, and was second only to the Executive and Commanding Officers in that regard. He also supervised the preparation of navigational charts and recommended safe courses. Akinola reported directly to the captain, which is unique for a young officer.
"Usually there are several higher ranking people between a junior officer and his or her captain," Akinola said. "The job of the Navigator is unique in that it's truly you and then the captain; no one else in between. The captain would give orders as to where and when he needed the ship to go or we would receive a mission with a specific location and rendezvous time. It was my job to recommend how fast to go and how to get there safely. As a young officer, it was nice to have such an important job and to have those direct conversations with him. Being in charge of a billion dollar ship is a huge of responsibility."
One mission involved rescuing two Iranian fishermen. Akinola remembers the ship was on its way home from the Arabian Gulf when they received a distress call from a person with broken English.
"It doesn't matter who it is when you are out on the open seas," Akinola said. "You always answer it; the sea can be very unforgiving. We discovered the men were Iranian and got a translator. They were thankful for us helping them and we stayed with them until the Iranian Coast Guard came."
One of the missions also involved anti-piracy operations off of the coast of Somalia. The first year of his time in the navy mainly dealt with Somali pirates. Akinola remembers the Somali pirates as 'very bad people.' One particular assignment required negotiating with pirates who had hijacked a Dutch merchant vessel with the crew still onboard. "It's nothing like Pirates of the Caribbean; we would have preferred Jack Sparrow over the real ones," quipped Akinola.
As Akinola's end of military service was near, he began to think of his dream of working in the medical field. He began applying to medical schools.

Akinola with 1993 Nobel Prize in Medicine Winner, Richard Roberts, PhD
"I loved my time in the Navy," Akinola said. "It was tough, but I learned a lot about myself and other people, especially about teamwork. Overall I had a blast. But I knew I wanted to get back to my love of science and looked into becoming a doctor. The feeling stayed with me throughout my time in the navy; I couldn't shake it."
When he began interviewing with numerous medical schools, Texas Tech University Health Sciences Center School of Medicine was at the top of his list after visiting Lubbock.
"I really liked how very warm everyone was on interview day," Akinola said. "Everyone, from the students to faculty, seemed to be genuinely happy to be here. The students liked being around each other and put their best foot forward to demonstrate all the great things at the institution, like research and The Free Clinic."
Akinola and his wife Kimberly, a pharmacist, have two daughters, Kaura and Kelsey. He said having a wife who went through a similar academic workload helps now that he is going through the same rigorous schedule. Relating on that level, working as a team, as well as a lot of give and take, helps them with the day-to-day medical school insanity. "My wife is amazing," says Akinola. "Her patience and grace are without equal and beyond measure. I couldn't do it without her."
And now in his first-year of medical school, Akinola enjoys that his new journey will include the initial idea of practicing medicine to improve life and help people.
"My impression of this medical school was confirmed the first day," Akinola said. "From the moment I got here, I knew it was the right choice."
Related Stories
By QEP Committee
March 21, 2023
As spring approaches, some people's thoughts turn to gardening. Whether it's a flower garden they desire or a vegetable garden want to have, they begin planning what they'll plant and what they need to do to ensure a successful garden.
By QEP Committee
March 21, 2023
A "growth mindset" accepts that our intelligence and talents can develop over time, and a person with that mindset understands that intelligence and talents can improve through effort and learning.
By Melissa Whitfield
February 13, 2023
Abstaining from drug abuse and an early diagnosis of familial hypercholesterolemia (high cholesterol) can help prevent heart disease.
Recent Stories
Research
By Mark Hendricks
November 16, 2023
Ninh (Irene) La-Beck, Pharm.D., with the TTUHSC Jerry H. Hodge School of Pharmacy, received a five-year, $2.49 million grant to investigate how nanoparticles interact with the immune system and cancer.
Research
By Mark Hendricks
November 10, 2023
To help investigate the influence basal sex hormone alterations may have on chronic post-op pain, the NIH recently awarded a grant to Jenny Wilkerson, Ph.D., from the Jerry H. Hodge School of Pharmacy.
Health
By Tyler White
November 09, 2023
Scott Shurmur, M.D., a cardiologist at the Texas Tech Physicians Center for Cardiovascular Health, shared his expertise and his experience as a former collegiate athlete.