Bright, Beautiful and 2,000 Degrees
This Fourth of July, Avoid Injuries from Fireworks
They are bright, beautiful, sparkly and fun to watch — but fireworks can injure you. According to the U.S. Consumer Product Safety Commission (CPSC) more than 9,000 fireworks-related injuries occur each year.
The CPSC said that of all fireworks-related injuries, 70 to 75 percent occur during the 30-day period around the July 4th holiday. The injury rate is highest among boys aged 10 to 14 years old. John Griswold, M.D., Texas Tech Physicians—Surgery and medical director of the Timothy J. Harnar Burn Center, said many parents feel sparklers are innocent and cannot harm a child. But for children under the age of five, sparklers account for one-third of all fireworks injuries.
"Remember that sparklers can burn at almost 2,000 degrees Fahrenheit, which is as hot as a burning charcoal grill fire and hot enough to quickly cause a third-degree burn if not handled correctly," Griswold said.
He said most injuries from fireworks affect the hands, face and eyes. The third-degree burns tend to be small but extremely deep. Griswold said if you do get a burn do the following:
Extinguish any flames or get away from any fires. If a fire does start, call 9-1-1.
Rinse the area with cool water only. Do not soak the burn. Cover it with a clean, dry towel or gauze.
Go to the nearest emergency center or urgent care center immediately.
Kelly Mitchell, M.D., Texas Tech Physicians — Eye Clinic said nearly 30 percent of fireworks injuries occur to the eyes.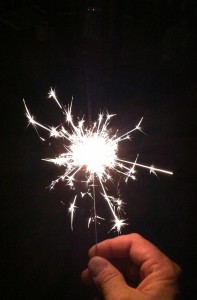 "One-fourth of fireworks eye injuries result in permanent vision loss or blindness," Mitchell said. "Children are the most common victims of firework accidents, with those fifteen years old or younger accounting for half of all fireworks eye injuries in the U.S."
For a safe and healthy Independence Day celebration, the American Academy of Ophthalmology gives the following fireworks safety tips:
Always wear protective eyewear if you are using fireworks
Never let children play with fireworks of any type
View fireworks from a safe distance at least 500 feet away or up to a quarter of a mile for best viewing
Follow directives given by event ushers or public safety personnel
If you find unexploded fireworks remains, do not touch them

According to Mitchell, if you do injure your eye, do not put pressure on it or rub it. The best thing is to promptly get to a physician or hospital for care.
"Almost all eye injuries from fireworks are preventable," Mitchell said. "Take precautions to keep your family safe to have a wonderful holiday."
Related Stories
By Melissa Whitfield
February 13, 2023
Abstaining from drug abuse and an early diagnosis of familial hypercholesterolemia (high cholesterol) can help prevent heart disease.
By Lori Rice-Spearman, Ph.D., Steven L. Berk, M.D.
March 22, 2022
TTUHSC Celebration of Life Service was held March 25th in remembrance of Tom McGovern, Ed.D.
By Suzanna Cisneros
March 18, 2022
TTUHSC has been named as a Military Friendly® School for 2022-2023. Among graduate schools, TTUHSC ranked fourth in the nation, achieving Gold award status.
Recent Stories
Education
By Meaghan Collier
March 17, 2023
TTUHSC Amarillo medical students participated in Match Day Friday, March 17.
Education
By Suzanna Cisneros
March 17, 2023
TTUHSC medical students participated in Match Day Friday, March 17.
Education
By Meaghan Collier
March 16, 2023
On March 15, TTUHSC Jerry H. Hodge School of Pharmacy students interested in completing a residency after they graduate learned where they would spend the next stage of their training.