TTUHSC Students and Faculty Seek to End Cervical Cancer in Nicaragua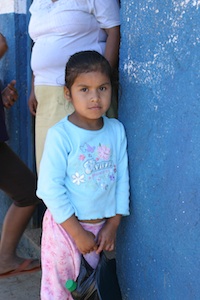 As the world commemorates Cervical Health Awareness Month in January, the efforts of students and faculty of Texas Tech University Health Sciences Center (TTUHSC) participating in global health efforts are particularly relevant. Since 2012, students and faculty from TTUHSC
School of Nursing
,
School of A
llied Heal
th Sciences
and
School of Medicine
have made multiple trips each year to Nicaragua, a country in which cervical cancer is the number one cause of death in women between the ages of 14 and 44, to work with patients and educate community health care workers.
"Faculty and students from TTUHSC School of Nursing started a women's health project in January 2014 to decrease the incidence of cervical cancer in Nicaragua," explained Amy Moore, DNP, R.N., FNP-C, director of TTUHSC School of Nursing's Global Health program. "The School of Nursing provides education for community health workers, rural health workers and nurses who provide care for the population. We have provided education in first aid, pediatric care, CPR as well as women's health."
Moore first went to Jinotega in 2012 with Laura Opton, DHSC, CNE, School of Nursing faculty member, and Patti Patterson, M.D. , TTUHSC School of Medicine professor of pediatrics, who was one of the founding TTUHSC faculty members to begin working in Nicaragua. Once there, Moore realized that preventing cervical cancer was a critically important task for the women in the region. With cervical cancer, early detection of precancerous tissue is critical to better patient outcomes. Part of the mission of Moore's team is to teach health care workers in the Jinotega region of Nicaragua to effectively perform visual inspection of the cervix with acetic acid (VIA) so that precancerous growths can be identified in time to save women's lives. By educating teams in Nicaragua to perform VIA, TTUHSC faculty and students have made this type of early detection a standard possibility for a much larger portion of the Nicaraguan population.
"We were involved in teaching VIA to 34 nurses and physicians and worked beside them in clinics providing care for women," Moore said. "Since that time, the nurses and physicians continue to provide women's health for patients in the region with a population of approximately half a million people."
Bringing the education techniques offered by TTUHSC School of Nursing to health care workers in Jinotega has allowed nurses and physicians to adapt new techniques under the guidance of experts like Moore. Moore also recognizes that the experiences in Jinotega have made her more conscious of the incredible opportunities patients have in the U.S. compared to other parts of the world.
"It changed how I practice, knowing how to do much with very little," Moore said. "Most of the workers there have never seen a simulation mannequin. So, practicing doing something like CPR was new for this population. The impacts of our work there are most evident in the education we provided to the community health workers and nurses in Jinotega."
As more students have joined the effort in Jinotega, the educational benefits have become mutual. Students from all of the participating schools gain hands-on experience and learn the value of working collectively in interprofessional teams. Like Moore did on her first trip to Jinotega, the students must learn to do more with less.
"They must be skillful in finding solutions to problems without the conveniences we have in the States," Moore said. "Undergraduate traditional nursing students, second degree students and graduate nursing students all work in an intraprofessional team to help each other in practice."
Students not only learn to be innovative with the limited resources available to treat patients in Jinotega, but also are able to perform their skillset on a scale that would not be possible in the U.S.
"We did over 700 well child exams one day," Moore recounted. "A nurse practitioner student told me he would have never been able to see that many kids if he was in the states. He was quite comfortable in doing well child exams after that day."
Abroad, students also gain insights they could not in the classroom. Many students are deeply affected by their time in Nicaragua and come back to the U.S. with a strengthened sense of empathy and compassion.
"Nurses are able to learn about caring for underserved populations while working in Nicaragua," Moore said. "A nurse practitioner student said, 'I thought I was going to teach people in Nicaragua something, but they actually taught me.'"
Moore knows this sentiment well. Each time she goes to Nicaragua, she feels more deeply connected to the people of Jinotega and is determined to go back again.
"It's really hard work, but it is also addicting work," Moore said. "There is a great deal of satisfaction in doing this. I have a heart for the people in the Jinotega region. Even though I only see them a few times a year, they are family. They are important."
The program plans to expand the program to other developing countries as more students and faculty have taken interest.
"We are taking what we have learned in Nicaragua and adding Peru to our list for a trip in fall 2015," Moore said. "We hope to include Costa Rica and Thailand in the future."
Moore and her colleagues in the TTUHSC School of Nursing Global Health program believe the projects distill an essential quality about nursing. She hopes expanded opportunities will allow more students to participate.
"I can echo what one of our students said about the patients and health care providers in Jinotega," Moore said. "'They remind me of why I decided to become a nurse.' I knew when I first came here that this was a place our students would gain so much practice, cultural and interprofessional experience."

Image Gallery
Related Stories
By QEP Committee
March 21, 2023
As spring approaches, some people's thoughts turn to gardening. Whether it's a flower garden they desire or a vegetable garden want to have, they begin planning what they'll plant and what they need to do to ensure a successful garden.
By QEP Committee
March 21, 2023
A "growth mindset" accepts that our intelligence and talents can develop over time, and a person with that mindset understands that intelligence and talents can improve through effort and learning.
By Melissa Whitfield
February 13, 2023
Abstaining from drug abuse and an early diagnosis of familial hypercholesterolemia (high cholesterol) can help prevent heart disease.
Recent Stories
Campus Life
By Suzanna Cisneros
September 26, 2023
TTUHSC announced the establishment of the TTUHSC Institute of Telehealth and Digital Innovation with a ribbon-cutting ceremony.
Education
By Tyler White
September 25, 2023
For the first time, TTUHSC has received a Veterans Education Excellence Recognition Award (VEERA) from the Texas Veterans Commission.
Research
By Mark Hendricks
September 25, 2023
TTUHSC School of Medicine researchers delved into the intricate interplay of biological, psychosocial and environmental factors that may influence healthy cognitive aging.