Barbershops and Better Health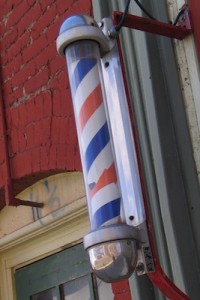 Community members can now do one-stop shopping when it comes to their grooming and health. Texas Tech University Health Sciences Center (TTUHSC) students will host the Barbershop Health Check from 9 a.m. to noon Feb. 14. Students from the Schools of Medicine, Nursing, Pharmacy, Allied Health Sciences and the Graduate School of Biomedical Sciences will promote awareness of the importance of healthy blood pressures. They will screen Lubbock community members for high blood pressure and answer questions about hypertension, Body Mass Index (BMI), and diabetes.
The Barbershop Health Check is an event organized through the Barbershop Blood Pressure Clinic, a student organization run by TTUHSC School of Medicine students. The organization goes to the same 12 barbershops and beauty salons one Saturday each month, taking blood pressures and talking to clients. In addition, the group goes to the Salvation Army one Tuesday each month and performs blood pressure checks as well as blood glucose screens.
Margaret O'Neal, second-year medical student and project co-chair, said meeting with community members in a non-medical setting helps alleviate some of the anxiety that can come with visiting a doctor's office.
"Barbershop Health Check is an amazing way to increase awareness in our community with one of the most important components of medicine – prevention," O'Neal said. "It's a fun way for us to interact with community members. We get a chance to learn a little bit about them while helping them learn a little about these preventable health issues."
Nicole Alavi-Dunn, second-year medical student and co-chair of the Barber Shop Health Check, said high blood pressure and obesity can lead to larger health problems if they are left untreated, even if a person has no symptoms.
"Giving people the ability to check their blood pressure and BMI at beauty salons and barbershops is a good way to help the community stay informed as to the status of their health," Alavi-Dunn said. "The students also enjoy spending Saturday mornings chatting with barbers, beauticians and customers."
The following barbershops and beauty salons will participate in the free Barbershop Health Check:



Cut the Chase: Beauty and the Barber, 1819 Parkway Drive




Gipson's Barber Shop, 1802 East Broadway




Lubbock Hair Academy, 2844 34th St.




Paul's Barber Shop, 1528 East 19St.




E's Barber Shop, 508 East 23rd St.




CNJ's Barber Shop, 4210 50 St.




Da Barber Shop, 1704 East Fourth St.




Garza's and Ramos' Barber Shop, 114 University Ave.




Talk of the Town Hair Salon, 510 E. 23rd St.




Navarrette's Barber Shop, 1928 19th St.




Navarette's Barber Shop, 3404 Raleigh Ave.




Parkway Bronze Lady Salon, 1716 E. Broadway


For more information, email TTUHSC.BSBP@gmail.com.
Related Stories
By Melissa Whitfield
February 13, 2023
Abstaining from drug abuse and an early diagnosis of familial hypercholesterolemia (high cholesterol) can help prevent heart disease.
By Lori Rice-Spearman, Ph.D., Steven L. Berk, M.D.
March 22, 2022
TTUHSC Celebration of Life Service was held March 25th in remembrance of Tom McGovern, Ed.D.
By Suzanna Cisneros
March 18, 2022
TTUHSC has been named as a Military Friendly® School for 2022-2023. Among graduate schools, TTUHSC ranked fourth in the nation, achieving Gold award status.
Recent Stories
Education
By Meaghan Collier
March 17, 2023
TTUHSC Amarillo medical students participated in Match Day Friday, March 17.
Education
By Suzanna Cisneros
March 17, 2023
TTUHSC medical students participated in Match Day Friday, March 17.
Education
By Meaghan Collier
March 16, 2023
On March 15, TTUHSC Jerry H. Hodge School of Pharmacy students interested in completing a residency after they graduate learned where they would spend the next stage of their training.