Barbershops and Better Health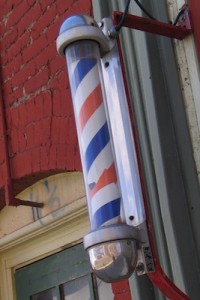 Community members can now do one-stop shopping when it comes to their grooming and health. Texas Tech University Health Sciences Center (TTUHSC) students will host the Barbershop Health Check from 9 a.m. to noon Feb. 14. Students from the Schools of Medicine, Nursing, Pharmacy, Allied Health Sciences and the Graduate School of Biomedical Sciences will promote awareness of the importance of healthy blood pressures. They will screen Lubbock community members for high blood pressure and answer questions about hypertension, Body Mass Index (BMI), and diabetes.
The Barbershop Health Check is an event organized through the Barbershop Blood Pressure Clinic, a student organization run by TTUHSC School of Medicine students. The organization goes to the same 12 barbershops and beauty salons one Saturday each month, taking blood pressures and talking to clients. In addition, the group goes to the Salvation Army one Tuesday each month and performs blood pressure checks as well as blood glucose screens.
Margaret O'Neal, second-year medical student and project co-chair, said meeting with community members in a non-medical setting helps alleviate some of the anxiety that can come with visiting a doctor's office.
"Barbershop Health Check is an amazing way to increase awareness in our community with one of the most important components of medicine – prevention," O'Neal said. "It's a fun way for us to interact with community members. We get a chance to learn a little bit about them while helping them learn a little about these preventable health issues."
Nicole Alavi-Dunn, second-year medical student and co-chair of the Barber Shop Health Check, said high blood pressure and obesity can lead to larger health problems if they are left untreated, even if a person has no symptoms.
"Giving people the ability to check their blood pressure and BMI at beauty salons and barbershops is a good way to help the community stay informed as to the status of their health," Alavi-Dunn said. "The students also enjoy spending Saturday mornings chatting with barbers, beauticians and customers."
The following barbershops and beauty salons will participate in the free Barbershop Health Check:



Cut the Chase: Beauty and the Barber, 1819 Parkway Drive




Gipson's Barber Shop, 1802 East Broadway




Lubbock Hair Academy, 2844 34th St.




Paul's Barber Shop, 1528 East 19St.




E's Barber Shop, 508 East 23rd St.




CNJ's Barber Shop, 4210 50 St.




Da Barber Shop, 1704 East Fourth St.




Garza's and Ramos' Barber Shop, 114 University Ave.




Talk of the Town Hair Salon, 510 E. 23rd St.




Navarrette's Barber Shop, 1928 19th St.




Navarette's Barber Shop, 3404 Raleigh Ave.




Parkway Bronze Lady Salon, 1716 E. Broadway


For more information, email TTUHSC.BSBP@gmail.com.
Related Stories
By QEP Committee
March 21, 2023
As spring approaches, some people's thoughts turn to gardening. Whether it's a flower garden they desire or a vegetable garden want to have, they begin planning what they'll plant and what they need to do to ensure a successful garden.
By QEP Committee
March 21, 2023
A "growth mindset" accepts that our intelligence and talents can develop over time, and a person with that mindset understands that intelligence and talents can improve through effort and learning.
By Melissa Whitfield
February 13, 2023
Abstaining from drug abuse and an early diagnosis of familial hypercholesterolemia (high cholesterol) can help prevent heart disease.
Recent Stories
Education
By Suzanna Cisneros
December 07, 2023
HACU announced Sonya Castro-Quirino, D.Bioethics, TTUHSC vice president of Office of Institutional Compliance, as one of the 50 fellows of HACU's Leadership Academy/La Academia de Liderazgo.
Campus Life
By Samantha White via TAFP news release
December 05, 2023
Ronald L. Cook, DO, MBA, of Lubbock, Texas, was named the 2023 Texas Family Physician of the Year during TAFP's Annual Session and Primary Care Summit in Grapevine on Nov. 11.
Research
By Mark Hendricks
November 16, 2023
Ninh (Irene) La-Beck, Pharm.D., with the TTUHSC Jerry H. Hodge School of Pharmacy, received a five-year, $2.49 million grant to investigate how nanoparticles interact with the immune system and cancer.