Taking a Closer Look at Poverty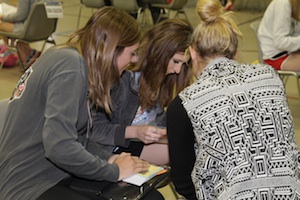 Students participate in poverty simulation
Texas Tech University Health Sciences Center (TTUHSC)
School of Nursing
students participated in a poverty simulation aimed at inspiring greater empathy and understanding in patient care. Each participating team, or "family," was given a binder describing which character each person would play throughout the simulation, occupation and objectives. With limited resources and a list of tasks to complete, students were required to balance financial stress, childcare needs and struggles like being sent to jail, while still maintaining their health. For many students, the simulation demonstrated how easy it is to overlook basic health care needs when survival is a struggle.
"I think there is a tendency for individuals in poverty to neglect basic health care needs because they are far more worried about other things like whether they are going to be able to put food on the table to feed their family and afford rent, gas, utilities and buy their children school clothes," said Tonya Becker, senior nursing student.
Before the signal to begin the simulation, students were told that everyone within the family must do their part to complete the objectives, and solving the problems would require a lot of creative thinking. Resources could be pawned to buy food, transportation was not free and participants who neglected basic needs, like sleep, water and food, would be sent to the hospital and unable to provide for their family. Tables and areas set up around the room represented businesses and organizations like grocery stores, pawn shops, social services, banks, clinics, hospitals, jails and schools, and to get anywhere, participants had to use transportation vouchers purchased from the appropriate organization, many of which were facilitated by students in the School of Nursing's Second Degree Bachelor of Science in Nursing program.
"The objective of the simulation is to have the students' experience what living in poverty is like and the situations that arise," said Dawn R. Kineman, MSN, R.N., CPN, TTUHSC School of Nursing assistant professor. "Sometimes, it was impossible for the family to meet even the most basic needs.
Participants pondered whether it was better to go to the grocery store or work with their only transportation vouchers, while the cost of daycare left that facility essentially empty and forced family members to stay home from work and school to look after babies (dolls). With so much chaos, the community health clinic table was unsurprisingly deserted, without any visitors throughout the entire first round.
"We hope to help students understand that families face poverty and have to choose priorities, and sometimes the priority is not health care," explained Kyle Johnson, MSN, R.N., CHSE, TTUHSC School of Nursing instructor, simulation coordinator. "We hope to instill compassion in our nursing students for all people."
Johnson noted that some nursing students are unaware of the obstacles some people encounter in health care. Simple life demands like work and caring for children leave many people underserved, and nursing students should have empathy for those situations.
"It is important because nurses need to understand barriers to receiving health care," Johnson said. "People choose safety, shelter, food, water and money before they will consider using some of their finances for prescriptions or medical treatment. "
Kineman said that health care professionals would have better understanding and perception of patients who fail to maintain their health care needs by participating in the training.
"We hope the nursing students encompass a deeper sense of compassion when caring for patients living in poverty or low income," said Kineman. "Maybe, they won't be as quick to jump to the assumption that the patient is 'noncompliant,' which is a term commonly used to describe a patient who does not adhere to medical recommendations, before evaluating if the patient even has the resources needed to be compliant."
Many students like Becker reevaluated their perception of noncompliance as a result of the simulation.
"It was definitely very eye-opening and humbling," Becker said. "It is easy to judge people or our patients for being 'noncompliant,' but instead of spending time judging them, we should take the time to get to know them and find out what is really going on."
And when patients do make it into the clinic or hospital, Johnson believes nurses should take the opportunity to assist those they recognize as living in poverty to make positive change.
"When patients are in the hospital or clinic setting, and we recognize their life situation includes living in poverty, we must help them navigate through resources," Johnson explained.
Some of the students participating in the simulation had never needed to prioritize needs in that way before. Some of them were surprised to be in a position to choose survival over school, health care or some other need.
"In the debrief, you ask questions like, 'How many of you skipped school to take care of a priority?'" Johnson said. "Immediately, you follow with, 'How many of you are surprised that skipping your education was one of the first things you chose to do?' Then, we go into a discussion about how children living in poverty sometimes take on adult roles early on, and school simply isn't a priority."
Some students resorted to even more desperate measures to fulfill their objectives.
"Many times, the first thing to occur was theft in order to meet the needs of the family and the ethical concerns and consequences that arose due to the theft," Kineman recalled.
The students admitted they felt real anxiety when making tough choices, even though it was in a simulated environment.
"I even pawned my furniture and jewelry to help my family through the week," Becker said. "It was stressful and overwhelming, but it was what I had to do."
By the end of the simulation, many of the students had already made associations between the simulated situations and those they may have encountered in the clinic.
"They related the experience to the other clinical hours they have fulfilled," said Kineman.
Becker feels that the simulation will not only make her a better nurse, but a better person and urges everyone to take part in similar programs.
"I feel that everyone should participate in a poverty simulation, if they have the opportunity to," Becker said. "It was just an experience for us, but for many people it is reality."
Image Gallery
Related Stories
By Lori Rice-Spearman, Ph.D., Steven L. Berk, M.D.
March 22, 2022
TTUHSC Celebration of Life Service was held March 25th in remembrance of Tom McGovern, Ed.D.
By Suzanna Cisneros
March 18, 2022
TTUHSC has been named as a Military Friendly® School for 2022-2023. Among graduate schools, TTUHSC ranked fourth in the nation, achieving Gold award status.
By Meaghan Collier
March 17, 2022
On March 16, fourth-year TTUHSC Jerry H. Hodge School of Pharmacy students interested in completing a residency after they graduate in May, learned where they would spend the next stage of their training during the Pharmacy Residency Match Day.
Recent Stories
Health
By Mark Hendricks
September 29, 2022
CPRIT recently awarded a $1 million prevention grant to Rakhshanda Rahman, M.D., Rebeccah Baucom, M.D., and John Kidwell, M.D., from the TTUHSC School of Medicine.
Research
By Kathryn Dankesreiter (TTU)
September 26, 2022
The Innovation Hub at Research Park today (September 26, 2022) announced the winners of its annual Presidents' Innovative Startup Awards. The award recognizes startups that have a high potential for growth and an economic impact in West Texas.
Education
By Suzanna Cisneros
September 23, 2022
Fifth graders from Bean Elementary School became doctors for a day. The Texas Tech University Health Sciences Center (TTUHSC) Student National Medical Association (SNMA) hosted the Doctors for a Day Minicamp on Sept. 23.