An Open Book: Nursing Founding Dean Shares Her Story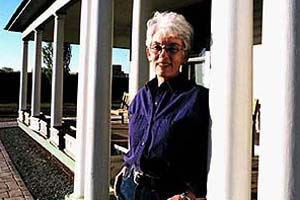 Jones served as dean of the School of Nursing from 1979 to 1992.
A love of literature led School of Nursing Founding Dean Teddy Jones, Ph.D., R.N., to choose an unlikely career in health care.
Jones recently shared her story and other insight with nursing faculty about how the fine arts can enhance the curricula of health care professionals, during a presentation titled, "Using the Arts in Nursing: How and Why."
"I hope to encourage a conversation about not whether the arts can help [nursing faculty] become caring individuals, but how to go about fitting experiences with the arts into the curriculum," Jones said. "Teachers have a huge task in managing the mass of information and experiences in curricula at undergraduate and graduate levels."
Choosing a Different Path
As a child, Jones thought she might become a journalist. But with high school graduation fast approaching, and no strong notion of what to do next, she decided to enter an essay contest with the prize of tuition for the first semester in Wichita General Hospital School of Nursing. She won, and soon took a summer job as a nurse's aide.
"I enjoyed feeling useful and was not appalled by being in the presence of illness," Jones said. "It turned out to have been a very good choice for me."
After completing the nursing program at Wichita General, Jones earned her bachelor's in nursing from Incarnate Word College in San Antonio, and her master's in nursing with a focus in medical-surgical nursing and a functional concentration in administration from the University of Texas System School of Nursing at Austin. She later earned a Ph.D. in curriculum and instruction in higher education from the University of Texas at Austin.
Jones served as dean of the TTUHSC School of Nursing from 1979 to 1992, where she also received her post-master's family nurse practitioner certificate. She was a professor with the School of Nursing in Lubbock until 2000.
Fulfilling a Dream
But even though Jones was fascinated by human beings and enjoyed the type of work she did in nursing, she said the idea of being a writer remained with her.
"As I matured, I learned to appreciate how literature could affect people and also learned the joy of creating works of literature," Jones said. "Unfortunately, I have only in the past few years come to realize the potential of art experiences for nursing students. And I will say that, in retrospect, I can see many situations in which a better outcome would have been achieved had I increased the students' experiences with art and decreased the amount which I spent lecturing on something better presented in a text or online."
Now self-employed as a writer, Jones is the author of "Jackson's Pond, Texas: A Novel," "Halfwide: A Novel," "Left Early, Arrived Late: Scenes from the Life of Marcia Muth," "Memory Painter," and co-author of "A Stone For Every Journey," and "100 Doses: Capsules of Advice and Wisdom for the Health and Well-being of Farm and Ranch Women."
"Even if I had no artistic ability at all, I could still experience and appreciate the arts," Jones said. "That's one of the points I hope to emphasize not that the instructional aim should be to develop artistic talent in students that's for the teachers of the various arts but rather that helping students experience the arts can increase their awareness of others' emotions and encourage them to practice with greater empathy and caring."
Related Stories
By QEP Committee
March 21, 2023
As spring approaches, some people's thoughts turn to gardening. Whether it's a flower garden they desire or a vegetable garden want to have, they begin planning what they'll plant and what they need to do to ensure a successful garden.
By QEP Committee
March 21, 2023
A "growth mindset" accepts that our intelligence and talents can develop over time, and a person with that mindset understands that intelligence and talents can improve through effort and learning.
By Melissa Whitfield
February 13, 2023
Abstaining from drug abuse and an early diagnosis of familial hypercholesterolemia (high cholesterol) can help prevent heart disease.
Recent Stories
Research
By Mark Hendricks
November 16, 2023
Ninh (Irene) La-Beck, Pharm.D., with the TTUHSC Jerry H. Hodge School of Pharmacy, received a five-year, $2.49 million grant to investigate how nanoparticles interact with the immune system and cancer.
Research
By Mark Hendricks
November 10, 2023
To help investigate the influence basal sex hormone alterations may have on chronic post-op pain, the NIH recently awarded a grant to Jenny Wilkerson, Ph.D., from the Jerry H. Hodge School of Pharmacy.
Health
By Tyler White
November 09, 2023
Scott Shurmur, M.D., a cardiologist at the Texas Tech Physicians Center for Cardiovascular Health, shared his expertise and his experience as a former collegiate athlete.