Small Town, Big Opportunities: Grant to Provide Tuition Assistance to Rural Workforce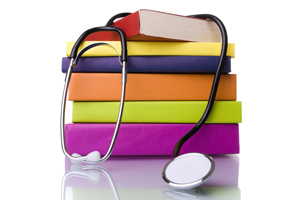 Students accepted into the program will have their tuition, books and fees covered.
The Area Health Education Center (AHEC) of the Plains in Plainview, Texas, has been awarded a $900,000 Rural Health Information Technology (HIT) grant from the Health Resources and Services Administration for current rural health employees.
The grant will provide tuition assistance for 120 students over three years. Qualified candidates will have tuition, books and fees covered when accepted into the online program. Eligible students must live in one of 76 counties covered by the Rural HIT Workforce Program grant. Classes begin in January.
The Rural HIT Workforce Program is a collaborative effort focused on developing future health care providers and supporting current health care professionals in West Texas. AHEC of the Plains will work with the West Texas Health Information Technology Regional Extension Center (WTxHITREC) at TTUHSC and with Midland College.
Two online certificates, information technology interoperability liaison and data quality manager, will be offered with an apprenticeship component to assist rural health care providers and facilities in the implementation, maintenance and reporting of information as required for Centers for Medicare and Medicaid Services participation. Midland College will provide training using curricula certified by the Office of the National Coordinator for Health Information Technology (ONC), with WTxHITREC providing service learning and apprenticeship.
The goal of the program is to combine career development and provider needs in rural West Texas through recruitment, education, certified training, apprenticeship and employment in the rural workforce. The program will serve as a building block and model for helping sustain the implementation of electronic health records within rural West Texas by training and certifying people in the area to meet the HIT needs.
WTxHITREC, a program of the F. Marie Hall Institute for Rural and Community Health at TTUHSC, was awarded through an objective review process by the U.S. Department of Health and Human Services, ONC, as the designated organization for West Texas to support primary health care providers on EHR adoption and meaningful use.
For more information about the HIT grant, visit the Midland College website, or call (432) 685-6891. For more information on achieving meaningful use, eligibility for EHR incentive payments and services provided by the WTxHITREC, call (806) 743-7960, email info@wtxhitrec.org or visit their website.
Related Stories
By QEP Committee
March 21, 2023
As spring approaches, some people's thoughts turn to gardening. Whether it's a flower garden they desire or a vegetable garden want to have, they begin planning what they'll plant and what they need to do to ensure a successful garden.
By QEP Committee
March 21, 2023
A "growth mindset" accepts that our intelligence and talents can develop over time, and a person with that mindset understands that intelligence and talents can improve through effort and learning.
By Melissa Whitfield
February 13, 2023
Abstaining from drug abuse and an early diagnosis of familial hypercholesterolemia (high cholesterol) can help prevent heart disease.
Recent Stories
Campus Life
By Suzanna Cisneros
March 31, 2023
The TPPC, managed by the TTUHSC Jerry H. Hodge School of Pharmacy, will host Lubbock's Spring Medication Cleanout™ event from 10 a.m. to 2 p.m. April 22 (Saturday) at the Texas Tech Physicians Medical Pavilion.
Campus Life
By Meaghan Collier
March 31, 2023
TTUHSC School of Nursing honored its first class of Bachelor of Science in Nursing (BSN) graduates with a lamp lighting ceremony on Thursday, March 30.
Health
By Melissa Whitfield
March 30, 2023
Texas Tech Physicians primary and specialty clinics across West Texas have completed more than 160,000 telehealth visits since the start of the pandemic.