New Mural Paints a Picture of Community Pride
The artist team behind the new art at the Combest Center has been creating community murals for more than 25 years.
East Lubbock residents not only have an enhanced medical home in the Combest Center, but also a new source of community pride.
Artist team Joshua C. Winer and David Fichter created a four-panel mosaic mural that stretches across a new 10,000-square-foot addition to the center located at 301 40th St.
Beyond the Mural
Beyond the mural are nine new medical exam rooms, a blood draw lab and a procedure/treatment room.
Offices were also added to serve case management/behavioral health, diabetic education and the clinical administration staff as well as a large meeting room and teaching kitchen for health education.
"Since, in addition to providing hands-on education for nursing students, the Combest Center also provides primary care health services to members of the surrounding Lubbock community, the daily audience for this particular artwork is so much more diverse than for most of the Public Art Collection's on-campus works, which are primarily viewed by students, faculty and staff," said Public Art Manager Erin Vaden. "Being able to place fine art in such a way to reach and connect with community members where they live is a unique and exciting opportunity that the Public Art Program doesn't often get. By recognizing important features of the surrounding community, we hope this artwork will contribute to forging even stronger connections among the Combest Center, community members and other features and institutions of the community."
A Community of Inspiration
While designing the latest installment to the Texas Tech University System public art collection, Winer and Fichter met with Combest Center patients, staff and neighbors for inspiration.
They also hosted community workshops to allow Lubbock residents to learn about the mosiac-making process while contributing to the mural.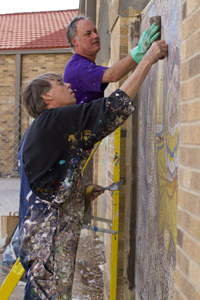 The mosaic is made up of four panels that were constructed in Boston before being installed in Lubbock.
"We heard of the desire to create a vibrant, beautiful, carefully crafted work of public mosaic art that would be a source of pride and joy to the community," Winer and Fichter wrote. "We also heard of the importance of providing opportunities for members of the community to develop a sense of ownership of the artwork through participatory activities. We have created a design that responds to all we have heard."
The artwork creates an overall narrative celebrating health and wellness, patient care, education, and the community served by the Combest Center. Also included are specific people, places, activities and events that are meaningful to the community, like Katie Parks and Teddy Jones, Freedom Baptist Church, the Copper Rawlings Park and Community Center and Harwell Elementary School.
In the background, an overall composition, called the kaleidoscope quilt pattern, weaves vibrant colors into the design, but is also a metaphor for the interconnectedness of the Combest Center and the people it serves.
"We believe that depicting beautiful portraits of people who represent the community are the key to making a strong connection with the people who will see the artwork every day," Winer and Fichter wrote.
Last year, the Combest Center received $5 million under the Affordable Care Act to add to the existing 6,450-square-foot facility. The artwork was commissioned by the University Public Art Committee using one percent of the total project cost of the expansion of the Combest Center.
Mural Masters
Fichter has been creating community murals for more than 25 years, working all over the U.S. and in other countries, including Armenia, Georgia and Nicaragua. He has worked with youth of all ages on more than 150 permanent murals, in addition to another 55 commissioned projects.
Winer has created more than 100 murals and works of public art, from large exterior murals for city centers to personalized interior murals for homes, hotels, restaurants, hospitals, nursing homes, museums, office buildings, parking garages, malls, theaters and schools.
The Public Art Program was initiated by the Texas Tech University System Board of Regents in 1998 as an investment in the campus environments at each of its institutions. Through the program, public artworks are funded using one percent of the estimated total cost of each new major capital project. Since then, 88 items created by some of today's leading artists have been added to the TTU System's campuses.
Image Gallery
Related Stories
By QEP Committee
March 21, 2023
As spring approaches, some people's thoughts turn to gardening. Whether it's a flower garden they desire or a vegetable garden want to have, they begin planning what they'll plant and what they need to do to ensure a successful garden.
By QEP Committee
March 21, 2023
A "growth mindset" accepts that our intelligence and talents can develop over time, and a person with that mindset understands that intelligence and talents can improve through effort and learning.
By Melissa Whitfield
February 13, 2023
Abstaining from drug abuse and an early diagnosis of familial hypercholesterolemia (high cholesterol) can help prevent heart disease.
Recent Stories
Education
By Suzanna Cisneros
March 24, 2023
Recognizing academic excellence, the honors are the most prestigious awards granted to faculty throughout the TTU System. The awards are funded by gifts to the Chancellor's Council, a giving society that supports the chancellor's priorities across the TTU System.
Campus Life
By Suzanna Cisneros
March 23, 2023
TTUHSC School of Medicine students will host a Women's Health Day free clinic from 10 a.m. to 1 p.m. April 15 at The Free Clinic
Research
By Mark Hendricks
March 21, 2023
TTUHSC Cytogenetic Technologist Jasbir Bisht and a team from P. Hemachandra Reddy's internal medicine laboratory analyzed the impact of cancer in Hispanics in comparison to other ethnic groups.