Physician, Student Receive State Honors
The Texas Medical Association (TMA) recently honored two people from TTUHSC with prestigious awards at the TMA House of Delegates.
C. Frank Webber, M.D., Award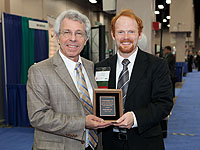 Steven L. Berk, M.D.
Steven L. Berk, M.D., executive vice president, provost and dean of the School of Medicine, was named this year's C. Frank Webber, M.D., Award recipient.
Each year the TMA Medical Student Section honors a Texas physician for outstanding service to the section and its members. Berk was honored for his continuous support through recognition of student efforts and eagerness to promote student involvement in organized medicine.
President Tedd L. Mitchell, M.D., said Berk's commitment to medical students is outstanding.
"Dr. Berk does an outstanding job with our students, not only with their education but by directing their talents and time to make significant contributions to our community through their outreach," Mitchell said. "From the Student-Run Free Clinic, to School of Medicine health fairs and community events that bring awareness to health care issues, his support of these students is worthy of this honor."
Berk also works to involve students in their community and in organized medicine. He has co-chaired the March of Dimes March for Babies, helped students promote the Lubbock City Lights charity gala, and lends financial assistance for students to participate in TMA and American Medical Association conferences and student chapters.
Berk's superior teaching and service to medical students has earned him several awards, including 10 James H. Quillen College of Medicine's Teacher of the Year awards, both East Tennessee State University's and TTUHSC's Distinguished Service Award, and the 2012 Boston University Distinguished Alumni Award. In 2011, Berk's book, Anatomy of a Kidnapping, his firsthand account of surviving an abduction, won the ForeWord Reviews Book of the Year award.
Created in 1987, the C. Frank Webber, M.D., Award is named after the late Texas family physician and educator C. Frank Webber, M.D., former dean of the University of Texas Medical School at Houston. Webber's efforts prompted the development of the strong student organization within TMA.
Medical Student of the Year
Justin Berk
Justin Berk, second-year medical student, received the TMA Medical Student of the Year Award. This award is given annually to the Texas medical student exemplifying outstanding service to the TMA Medical Student Section.
TMA stated, "Justin Berk is a champion of local health care needs, a mentor to other students, and an integral member of the TMA chapter. Justin mobilized many students to participate in shaping health care policy by organizing newsletters to address current issues in health care policy, pamphlets and lunch lectures.
"In addition, Justin was deputized by the local election office to register voters for the 2012 election; the subsequent event registered more than 100 students. Under Justin's leadership existing TMA events like 'Be Wise Immunize' were integrated into the School of Medicine Free Clinic expanding our community footprint."
TMA created the Medical Student Section in the late 1970s to gain a student perspective among members and provide future physicians with a voice in TMA policy. This organized membership section helps focus attention on issues unique to Texas students and provides a forum for students to communicate with each other.
Related Stories
By QEP Committee
March 21, 2023
As spring approaches, some people's thoughts turn to gardening. Whether it's a flower garden they desire or a vegetable garden want to have, they begin planning what they'll plant and what they need to do to ensure a successful garden.
By QEP Committee
March 21, 2023
A "growth mindset" accepts that our intelligence and talents can develop over time, and a person with that mindset understands that intelligence and talents can improve through effort and learning.
By Melissa Whitfield
February 13, 2023
Abstaining from drug abuse and an early diagnosis of familial hypercholesterolemia (high cholesterol) can help prevent heart disease.
Recent Stories
Research
By Mark Hendricks
November 16, 2023
Ninh (Irene) La-Beck, Pharm.D., with the TTUHSC Jerry H. Hodge School of Pharmacy, received a five-year, $2.49 million grant to investigate how nanoparticles interact with the immune system and cancer.
Research
By Mark Hendricks
November 10, 2023
To help investigate the influence basal sex hormone alterations may have on chronic post-op pain, the NIH recently awarded a grant to Jenny Wilkerson, Ph.D., from the Jerry H. Hodge School of Pharmacy.
Health
By Tyler White
November 09, 2023
Scott Shurmur, M.D., a cardiologist at the Texas Tech Physicians Center for Cardiovascular Health, shared his expertise and his experience as a former collegiate athlete.