Mitchell Named Interim President of TTUHSC El Paso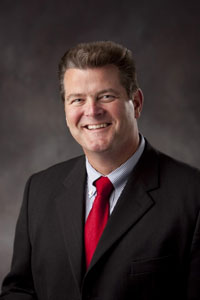 In this interim position, Mitchell will continue the administrative responsibilities he has held since being named TTUHSC president in June 2010.
On May 18, Gov. Rick Perry signed S.B. 120 into law, formally establishing TTUHSC El Paso as the fourth institution under the Texas Tech University System. TTUHSC President Tedd L. Mitchell, M.D., was named interim president of the new university following actions taken during executive session of the May Board of Regents meeting.
"We are especially grateful to Gov. Perry, Sen. José Rodríguez, Rep. Naomi Gonzalez and others in the Texas Legislature for their tremendous support of the bill," said Texas Tech University System Chancellor Kent Hance. "This significant milestone would not have been possible without the hard work and commitment of our students, faculty, staff, community members and donors in El Paso. There have been many achievements realized in El Paso as a regional campus, and we are excited to build on this great momentum now as an independent university."
As interim president, Mitchell will continue to carry out the administrative responsibilities he has had since he was named president of TTUHSC (headquartered in Lubbock) in June 2010.
Hance said Mitchell has done well coordinating the El Paso campus throughout his time as president and is confident in his skills and institutional knowledge to lead a successful transition from a regional campus to a comprehensive health sciences university.
A committee will be named in the coming weeks to conduct a nationwide search for the first president of TTUHSC El Paso.
"Thanks to our dedicated supporters we have laid a foundation for success in El Paso and look forward to an exciting future for our new university," Hance said.
Related Stories
By Lori Rice-Spearman, Ph.D., Steven L. Berk, M.D.
March 22, 2022
TTUHSC Celebration of Life Service was held March 25th in remembrance of Tom McGovern, Ed.D.
By Suzanna Cisneros
March 18, 2022
TTUHSC has been named as a Military Friendly® School for 2022-2023. Among graduate schools, TTUHSC ranked fourth in the nation, achieving Gold award status.
By Meaghan Collier
March 17, 2022
On March 16, fourth-year TTUHSC Jerry H. Hodge School of Pharmacy students interested in completing a residency after they graduate in May, learned where they would spend the next stage of their training during the Pharmacy Residency Match Day.
Recent Stories
Education
By Mark Hendricks
September 23, 2022
Fifth graders from Bean Elementary School became doctors for a day. The Texas Tech University Health Sciences Center (TTUHSC) Student National Medical Association (SNMA) hosted the Doctors for a Day Minicamp on Sept. 23.
Research
By Mark Hendricks
September 22, 2022
Pablo Artigas, Ph.D., from TTHSC's School of Medicine's Department of Cell Physiology and Molecular Biophysics, published a study with his team of collaborators in Nature Communications.
Campus Life
By Mark Hendricks
September 20, 2022
The Texas Panhandle Poison Center (TPPC), managed by the Jerry H. Hodge School of Pharmacy, will host Lubbock's Fall Medication Cleanout™ event October 1.