Mitchell Named Interim President of TTUHSC El Paso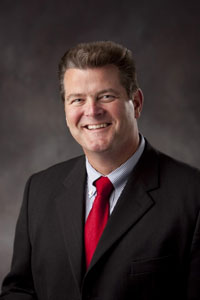 In this interim position, Mitchell will continue the administrative responsibilities he has held since being named TTUHSC president in June 2010.
On May 18, Gov. Rick Perry signed S.B. 120 into law, formally establishing TTUHSC El Paso as the fourth institution under the Texas Tech University System. TTUHSC President Tedd L. Mitchell, M.D., was named interim president of the new university following actions taken during executive session of the May Board of Regents meeting.
"We are especially grateful to Gov. Perry, Sen. José Rodríguez, Rep. Naomi Gonzalez and others in the Texas Legislature for their tremendous support of the bill," said Texas Tech University System Chancellor Kent Hance. "This significant milestone would not have been possible without the hard work and commitment of our students, faculty, staff, community members and donors in El Paso. There have been many achievements realized in El Paso as a regional campus, and we are excited to build on this great momentum now as an independent university."
As interim president, Mitchell will continue to carry out the administrative responsibilities he has had since he was named president of TTUHSC (headquartered in Lubbock) in June 2010.
Hance said Mitchell has done well coordinating the El Paso campus throughout his time as president and is confident in his skills and institutional knowledge to lead a successful transition from a regional campus to a comprehensive health sciences university.
A committee will be named in the coming weeks to conduct a nationwide search for the first president of TTUHSC El Paso.
"Thanks to our dedicated supporters we have laid a foundation for success in El Paso and look forward to an exciting future for our new university," Hance said.
Related Stories
By QEP Committee
March 21, 2023
As spring approaches, some people's thoughts turn to gardening. Whether it's a flower garden they desire or a vegetable garden want to have, they begin planning what they'll plant and what they need to do to ensure a successful garden.
By QEP Committee
March 21, 2023
A "growth mindset" accepts that our intelligence and talents can develop over time, and a person with that mindset understands that intelligence and talents can improve through effort and learning.
By Melissa Whitfield
February 13, 2023
Abstaining from drug abuse and an early diagnosis of familial hypercholesterolemia (high cholesterol) can help prevent heart disease.
Recent Stories
Research
By Mark Hendricks
November 16, 2023
Ninh (Irene) La-Beck, Pharm.D., with the TTUHSC Jerry H. Hodge School of Pharmacy, received a five-year, $2.49 million grant to investigate how nanoparticles interact with the immune system and cancer.
Research
By Mark Hendricks
November 10, 2023
To help investigate the influence basal sex hormone alterations may have on chronic post-op pain, the NIH recently awarded a grant to Jenny Wilkerson, Ph.D., from the Jerry H. Hodge School of Pharmacy.
Health
By Tyler White
November 09, 2023
Scott Shurmur, M.D., a cardiologist at the Texas Tech Physicians Center for Cardiovascular Health, shared his expertise and his experience as a former collegiate athlete.