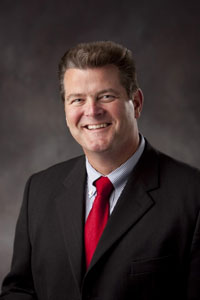 In this interim position, Mitchell will continue the administrative responsibilities he has held since being named TTUHSC president in June 2010.
On May 18, Gov. Rick Perry signed S.B. 120 into law, formally establishing TTUHSC El Paso as the fourth institution under the Texas Tech University System. TTUHSC President Tedd L. Mitchell, M.D., was named interim president of the new university following actions taken during executive session of the May Board of Regents meeting.
"We are especially grateful to Gov. Perry, Sen. José Rodríguez, Rep. Naomi Gonzalez and others in the Texas Legislature for their tremendous support of the bill," said Texas Tech University System Chancellor Kent Hance. "This significant milestone would not have been possible without the hard work and commitment of our students, faculty, staff, community members and donors in El Paso. There have been many achievements realized in El Paso as a regional campus, and we are excited to build on this great momentum now as an independent university."
As interim president, Mitchell will continue to carry out the administrative responsibilities he has had since he was named president of TTUHSC (headquartered in Lubbock) in June 2010.
Hance said Mitchell has done well coordinating the El Paso campus throughout his time as president and is confident in his skills and institutional knowledge to lead a successful transition from a regional campus to a comprehensive health sciences university.
A committee will be named in the coming weeks to conduct a nationwide search for the first president of TTUHSC El Paso.
"Thanks to our dedicated supporters we have laid a foundation for success in El Paso and look forward to an exciting future for our new university," Hance said.