Providing Care Doesn't Break for Nursing Student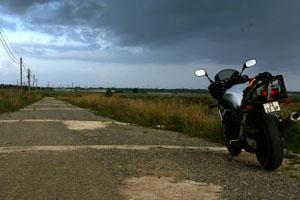 Nelson said her training helped her respond to the accident by being able to assess the situation and make sure the injured motorcyclist was alert and stable.
Karenia Nelson's spring break fishing trip ended in a crash course in triage nursing when she was the first to respond to a multiple vehicle accident around 5 p.m. March 15 on a two-lane highway near Port Aransas.
Nelson, a 27-year-old junior in the traditional School of Nursing program, her mother, 7-year-old daughter and a family friend, were coming back from Port Aransas on a ferry.
Never Thought Twice
One minute, Nelson said she was admiring the two motorcycles parked next to her truck on the ferry, and the next, she was watching one of them weave in and out of traffic at more than the posted 50 mph speed limit.
"The individual who got into the accident, as he was weaving, there was a car in front of him, and that car ended up stopping, but I don't think he was paying attention, and he ended up hitting the back of her car," Nelson said. "I don't know how fast he was going, but he was going fast enough to where when he hit her in the back, it pushed her car out into the oncoming traffic and she got hit in the front by a truck."
The 40-something motorcyclist who caused the accident lost control of his bike and sped off into a nearby field. He and his bike rolled several feet before skidding to a halt, Nelson said.
Nelson, a San Antonio native who has been active in the U.S. Air Force for about five years, said she didn't really think before stopping to render aid.
"I think I got rid of my fear that first semester of school, plus being in the military, we see a lot, and this wasn't the first time that I'd stopped to help in an accident," Nelson said.
Skills for Real Situations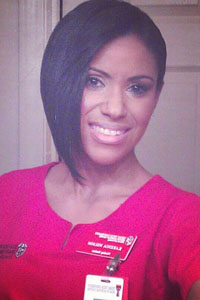 Nelson said the accident gave her drive to continue pursuing her career in nursing and helping those in need.
After taking the man's pulse and confirming that he was breathing fine, Nelson said she noticed the man's left boot had come off and there was blood on his sock.
"His big toe got completely severed off," Nelson said. "I don't know if it was the rolling, or if maybe the bike ended up landing, or something happened, but by the time he stopped, he landed in an odd position."
Remembering what she learned during clinical rotations, Nelson said she hesitated to inspect the wound further because she didn't have any gloves. Instead, she focused on keeping her patient stable by using a belt supplied by another bystander to tie off circulation to the injury and prevent him from losing too much blood.
"As we do clinical now, we are hands on with our patients, but we haven't gotten to the acute setting yet where it's incidences that are like this," Nelson said. "I'm glad to know that I've been at least taught that this is what you think of when you have a situation like this to make sure the person is alert, see if they're breathing, see if they have a pulse…"
Nelson located the man's toe about 10 steps from where he lay, but despite her efforts to save the digit and put it on ice, she is unsure if it was able to be reattached.
Happy to Help
"It was thankful that he lost his toe and not his life," Nelson said.
The motorcyclist was wearing a helmet and thick clothing that Nelson believes may have helped shield him from further injury. The drivers of the other vehicles, who were in their 20s, were shaken up, but walked away from the crash without serious injuries.
Once the sheriff's department, fire department and EMS arrived to clear the scene, Nelson said she walked away with the satisfaction of being able to help someone in need and a deeper sense of purpose for her career.
"It kind of gives me more of a drive that I love nursing, but at the same time because I'm in the military, I feel like I have the best of both worlds," Nelson said. "I get to pursue my nursing but at the same time be able to take care of those who are serving our country too.
"As long as I'm helping somebody – I don't care whether you've lost a toe or if you're just in for a cold, I'm happy to know that I can at least help with getting that person better, because for me that's the main concern when someone comes into the hospital or to your clinic, is to make sure they're treated so they can recover and go back to their normal day of living."
Related Stories
By QEP Committee
March 21, 2023
As spring approaches, some people's thoughts turn to gardening. Whether it's a flower garden they desire or a vegetable garden want to have, they begin planning what they'll plant and what they need to do to ensure a successful garden.
By QEP Committee
March 21, 2023
A "growth mindset" accepts that our intelligence and talents can develop over time, and a person with that mindset understands that intelligence and talents can improve through effort and learning.
By Melissa Whitfield
February 13, 2023
Abstaining from drug abuse and an early diagnosis of familial hypercholesterolemia (high cholesterol) can help prevent heart disease.
Recent Stories
Campus Life
By Suzanna Cisneros
March 23, 2023
TTUHSC School of Medicine students will host a Women's Health Day free clinic from 10 a.m. to 1 p.m. April 15 at The Free Clinic
Research
By Mark Hendricks
March 21, 2023
TTUHSC Cytogenetic Technologist Jasbir Bisht and a team from P. Hemachandra Reddy's internal medicine laboratory analyzed the impact of cancer in Hispanics in comparison to other ethnic groups.
Education
By School of Health Professions
March 21, 2023
World Down syndrome Day was established to raise awareness about Down syndrome and to promote inclusion and acceptance of people with Down syndrome in all aspects of society.