Masking Up for a Great Cause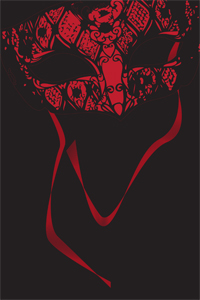 Masquerade balls were a feature of the season before Lent in the 15th century.
One of the most infamous masks is that of the Texas Tech Masked Rider, a Texas Tech tradition that brings all students together for the red and black. With that same school spirit, all TTUHSC students will come together with a different mask to celebrate the Masquerade Promenade.
The event, which is hosted by the Texas Medical Association (TMA) and the American Medical Association (AMA), will be from 7 to 11 p.m. Oct. 3 at the McKenzie-Merket Alumni Center located at 17th Street and University Avenue. Tickets are $45.
Justin Bishop, second-year medical student and event chair, said TMA/AMA students wanted an event that would bring all TTUHSC students together to celebrate and get to know other students from each school.
"We always hear about the importance of all health care professions working together to provide better health care," Bishop said. "What a better way to start interprofessional skills than as students. This event is a unique opportunity for all TTUHSC students to come together, get to know each other and celebrate all of their hard work."
The masquerade ball will include dinner and a dance with all proceeds going to the Testicular Cancer Foundation, the Laura W. Bush Institute for Women's Health (LWBIWH) and SaveMyHeart Challenge.
Charities:
Testicular Cancer Foundation (Single Jingles)
Testicular Cancer is the No.1 cancer in young men ages 15 to 35. It is highly survivable if caught early. Single Jingles teaches men and their families about the disease and about the importance of self-exams.
Laura W. Bush Institute for Women's Health
The LWBIWH was established to create a new approach to women's health care. Modern research proves that some diseases react differently in men and women challenging health care professionals to design special approaches to providing personalized women's health information, disease diagnosis and treatment.
SaveMyHeart Challenge
SaveMyHeart's goal is to improve a community's coordination efforts of reducing cardiac related deaths by 2017, through the implementation of an evidenced-based interprofessional community service program focused on strategically improving the utilization of automated external devices (AEDs) within the community. AEDs increase the survival rate of persons who experience cardiac emergencies and data has shown that small businesses in Lubbock are in need of increased cardiac/AED/health education.
"TTUHSC students work hard to give back to this community through health fairs, the School of Medicine Student-Run Free Clinic, community outreach and fundraisers," Bishop said. "We wanted to provide an event that would give them a night to have fun, all while raising money to put back into these great organizations."
For more information about the event, email justin.bishop@ttuhsc.edu.
Related Stories
By QEP Committee
March 21, 2023
As spring approaches, some people's thoughts turn to gardening. Whether it's a flower garden they desire or a vegetable garden want to have, they begin planning what they'll plant and what they need to do to ensure a successful garden.
By QEP Committee
March 21, 2023
A "growth mindset" accepts that our intelligence and talents can develop over time, and a person with that mindset understands that intelligence and talents can improve through effort and learning.
By Melissa Whitfield
February 13, 2023
Abstaining from drug abuse and an early diagnosis of familial hypercholesterolemia (high cholesterol) can help prevent heart disease.
Recent Stories
Education
By Suzanna Cisneros
March 24, 2023
Recognizing academic excellence, the honors are the most prestigious awards granted to faculty throughout the TTU System. The awards are funded by gifts to the Chancellor's Council, a giving society that supports the chancellor's priorities across the TTU System.
Campus Life
By Suzanna Cisneros
March 23, 2023
TTUHSC School of Medicine students will host a Women's Health Day free clinic from 10 a.m. to 1 p.m. April 15 at The Free Clinic
Research
By Mark Hendricks
March 21, 2023
TTUHSC Cytogenetic Technologist Jasbir Bisht and a team from P. Hemachandra Reddy's internal medicine laboratory analyzed the impact of cancer in Hispanics in comparison to other ethnic groups.