Longtime Dean Leaves Big Shoes to Fill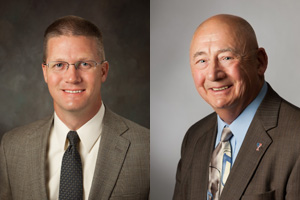 Satterwhite will assume the deanship July 1. Brooke has been named professor and dean emeritus for his service to the university.
After serving 14 years as dean of the School of Allied Health Sciences, Paul P. Brooke Jr., Ph.D., has announced he will retire from the position on June 30. The Board of Regents named Brooke professor and dean emeritus for his long and faithful service to the university.
"Dr. Brooke has been one of the best deans I have had the pleasure of working alongside," said Chancellor Kent Hance. "His dedication and passion for not only his field, but also Texas Tech University Health Sciences Center is unmatched. He will be truly missed, as his service has greatly benefited our students and institution."
A New Era
C. Robin Satterwhite, Ed.D., professor, chair of the Department of Clinic Administration and Rehabilitation Counseling and associate dean for Learning Outcomes and Technologies, will take Brooke's place as dean effective July 1.
Satterwhite, a Texas Tech alumnus, joined TTUHSC in 1999. He served as the regional dean for the School of Allied Health Sciences' Odessa/Midland campuses, director of the Clinical Services Management Program, founding chair of the Department of Clinic Administration and Rehabilitation Counseling, and associate dean for Learning Outcomes and Technologies.
Prior to his academic positions, Satterwhite served as CEO and administrator of two separate hospitals and clinics. He has served as vice president of the Texas Society of Allied Health Professionals in 2011.
President Tedd L. Mitchell, M.D., conveyed gratitude for Brooke's dedicated service to his country and the university, and expressed high hopes for Satterwhite's future as dean.
"Dr. Brooke is a passionate advocate for allied health sciences and a highly respected academic leader. He has made a lasting impact on not only the School of Allied Health Sciences, but the university as a whole," Mitchell said. "Dr. Satterwhite has large shoes to fill, but I am confident that his background has more than prepared him to continue the positive momentum Dr. Brooke has established for allied health sciences programs at TTUHSC."
A Lasting Impact
Brooke came to TTUHSC following his retirement from the U.S. Army. His army career included service in a wide range of Medical Service Corps positions. Among his assignments were command positions in Vietnam, Fort Riley, Kansas, and Nürnberg, Germany; policy analyst in the Office of the Army's Surgeon General; hospital administrator in two U.S. Army hospitals in Germany; and dean of the Academy of Health Sciences at Fort Sam Houston.
In 1998, Brooke was named the School of Allied Health Sciences dean. He also has served concurrently as a professor within the school. During his tenure, Brooke has focused on expanding the school's education programs and earning regional and national recognition for teaching and clinical excellence. In 2008, Brooke and the institution celebrated the school's 25th anniversary.
Under Brooke's leadership, the School of Allied Health Sciences has experienced growth and success in many areas including:
Increasing enrollment from 485 in 1998 to 1,294 in 2011 and the number of academic programs from five to 18
Establishment of the Physician Assistant Program in Midland to combat the country's acute personnel shortages in primary care providers
Pioneering the first Doctor of Audiology Program west of the Mississippi River and the country's first Master of Science in Molecular Pathology
Addition of Ph.D. programs in communication science and disorders and in rehabilitation sciences; and Sc.D. program in physical therapy; and professional doctorates in audiology and physical therapy
Addition of master's programs in vocational rehabilitation, athletic training and molecular pathology in Lubbock; bachelor's programs in health sciences, emergency medical systems management and clinical support services management
Establishment of the Department of Clinic Administration and Rehabilitation Counseling
Expansion of the Occupational Therapy Program from a bachelor's to master's degree; the Physician Assistant Program from a bachelor's to master's degree; and the Physical Therapy Program from a master's to clinical entry-level doctorate
Relocation of the Department of Communication Disorders from the Texas Tech campus to TTUSHC and Odessa and Amarillo programs to permanent facilities
Establishment of two centers to enhance allied health research: The Center for Brain Mapping and Cortical Studies within the Department of Speech, Language and Hearing Sciences; and The Center for Clinical Rehabilitation Assessment within the Department of Rehabilitation Sciences
Brooke and his wife, originally from New York City, will make their retirement home in Lubbock.
Related Stories
By QEP Committee
March 21, 2023
As spring approaches, some people's thoughts turn to gardening. Whether it's a flower garden they desire or a vegetable garden want to have, they begin planning what they'll plant and what they need to do to ensure a successful garden.
By QEP Committee
March 21, 2023
A "growth mindset" accepts that our intelligence and talents can develop over time, and a person with that mindset understands that intelligence and talents can improve through effort and learning.
By Melissa Whitfield
February 13, 2023
Abstaining from drug abuse and an early diagnosis of familial hypercholesterolemia (high cholesterol) can help prevent heart disease.
Recent Stories
Education
By Suzanna Cisneros
December 07, 2023
HACU announced Sonya Castro-Quirino, D.Bioethics, TTUHSC vice president of Office of Institutional Compliance, as one of the 50 fellows of HACU's Leadership Academy/La Academia de Liderazgo.
Campus Life
By Samantha White via TAFP news release
December 05, 2023
Ronald L. Cook, DO, MBA, of Lubbock, Texas, was named the 2023 Texas Family Physician of the Year during TAFP's Annual Session and Primary Care Summit in Grapevine on Nov. 11.
Research
By Mark Hendricks
November 16, 2023
Ninh (Irene) La-Beck, Pharm.D., with the TTUHSC Jerry H. Hodge School of Pharmacy, received a five-year, $2.49 million grant to investigate how nanoparticles interact with the immune system and cancer.