Give the Gift of Life with Organ Donation
As told by Marina Monsisvais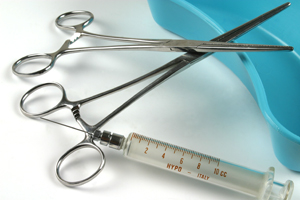 According to the U.S. Department of Health and Human Services, about 69 percent of kidney recipients are still alive five years after their transplant.
Currently, 113,389 people are waiting for an organ. Of those, 18 will die each day waiting for an organ. However, Erica A. Rivas can count herself as one of the lucky 79 people who are given the gift of life every day.
Her journey to becoming an advocate for organ donation began in 2006 when she was diagnosed with a chronic form of kidney disease called Focal Segmental Glomerulosclerosis.
Focal Segmental Glomerulosclerosis is scar tissue that forms in parts of the kidney called glomeruli. The glomeruli serve as filters, helping rid the body of unnecessary or harmful substances, according to the U.S. Library of Medicine. Although an exact cause of the disease is unknown, many cases often lead to kidney failure.
To prevent her kidneys from failing, Rivas, an evaluation coordinator for the Office of Curriculum, Evaluation and Accreditation at the Paul L. Foster School of Medicine, was put on dialysis to extend her life by helping her body filter toxins.
But she would need a new kidney to live a normal life.
"When you're a dialysis patient, it's very heartbreaking," Rivas said. "There are so many people out there who have been on dialysis for years. I spent a lot of time looking for a living donor. None of my family or friends was a match."
Although her diagnosis seemed grim, Rivas was thrilled when she learned a selfless organ donor would give her second chance at life.
"I was on the donor waiting list, but my wait wasn't long," Rivas said. "Two people in El Paso are alive because one person made the decision to donate."
Since her transplant, Rivas has made it her mission to be the voice for kidney and organ donation at the Paul L. Foster School of Medicine. Because of her experience, Rivas' family has also registered to become donors.
"I'm thankful that someone was unselfish and decided to be an organ donor," Rivas said. "I'm here because of him."
Click here to learn more about organ donation or to register as a donor.
Related Stories
By Lori Rice-Spearman, Ph.D., Steven L. Berk, M.D.
March 22, 2022
TTUHSC Celebration of Life Service was held March 25th in remembrance of Tom McGovern, Ed.D.
By Suzanna Cisneros
March 18, 2022
TTUHSC has been named as a Military Friendly® School for 2022-2023. Among graduate schools, TTUHSC ranked fourth in the nation, achieving Gold award status.
By Meaghan Collier
March 17, 2022
On March 16, fourth-year TTUHSC Jerry H. Hodge School of Pharmacy students interested in completing a residency after they graduate in May, learned where they would spend the next stage of their training during the Pharmacy Residency Match Day.
Recent Stories
Education
By Mark Hendricks
September 23, 2022
Fifth graders from Bean Elementary School became doctors for a day. The Texas Tech University Health Sciences Center (TTUHSC) Student National Medical Association (SNMA) hosted the Doctors for a Day Minicamp on Sept. 23.
Research
By Mark Hendricks
September 22, 2022
Pablo Artigas, Ph.D., from TTHSC's School of Medicine's Department of Cell Physiology and Molecular Biophysics, published a study with his team of collaborators in Nature Communications.
Campus Life
By Mark Hendricks
September 20, 2022
The Texas Panhandle Poison Center (TPPC), managed by the Jerry H. Hodge School of Pharmacy, will host Lubbock's Fall Medication Cleanout™ event October 1.