Break the Binge Trend this Spring
As told by Gregory Schrimsher, Ph.D.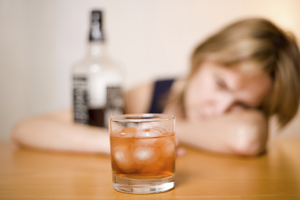 Consuming more than five drinks as a male or more than four drinks as a female is considered binge drinking.
The month of March is tied to events like Spring Break that are linked with a large amount of alcohol use. At such times, drinking alcohol is seen as the normal or expected thing to do. Unfortunately, consuming alcohol in large quantities can lead to negative health and well-being outcomes for the person drinking, as well as those around them.
What is a binge?
Binge drinking is defined as consuming five or more standard drinks for males, or four or more for females, in a single session, leading to a blood alcohol level more than the legal limit. Many people will go further than the minimum definition of binge drinking during Spring Break, consuming 10, 15, or even 20 or more drinks.
To be aware of how much alcohol you're consuming, it's important to know what a standard drink means. One standard drink is 12 ounces of beer, 5 ounces of wine, or 1.5 ounces of liquor (a shot). All of these have the same amount of alcohol. Margaritas served at restaurants are usually not just one drink, but may be as many as four or five. A wine glass filled to the brim is about two drinks, not one. It is the amount of alcohol that matters, not the number of glasses consumed.
Alcohol use is the third leading cause of preventable death in the U.S. The majority of these deaths are due to high alcohol use events, not long-term alcoholism. These causes of death or serious injuries include motor vehicle accidents, falls, physical and sexual assaults and other violence, and alcohol poisoning. These types of deaths and injuries not only involve the drinker, but often individuals injured or killed by someone who is drunk.
Drink Responsibly
While it is often done, binge drinking is not a necessary part of enjoying Spring Break. Most people can enjoy beer, wine and mixed drinks responsibly and safely.
If alcohol use will be part of your celebrations, be responsible. If you are going out with friends and will be drinking, assign someone to be the designated driver or travel by taxi. If you go out with a crowd who will be drinking, check on each other periodically. Make sure your friends are not becoming drunk and running a risk of putting themselves or others in danger.
In terms of self-control, limit your alcohol intake to no more than one drink per hour. Eating high protein food like cheese, nuts and meats while consuming alcohol will reduce the rate alcohol is absorbed into your bloodstream. Choose drinks that you enjoy based on their flavor and taste, sip them and savor. Don't pound down drinks with the goal of getting drunk. Also, you can alternate drinking alcoholic beverages with drinking non-alcoholic beverages.
Finally, do not cross the binge-drinking threshold when consuming alcohol. Besides the health and safety risks already discussed, research at the South Plains Alcohol and Addiction Research Center has found that more frequent and larger quantity binge drinking bouts are related to poor memory ability. This is not memory loss limited to the night of drinking ("blackouts"), but reduced ability to learn and remember weeks later. Research also shows that binge drinking alters brain activity, such that binge drinkers have to use much more of their brains to do as well on mental tasks as people who do not binge drink.
Just because there is an expectation of binge drinking associated with Spring Break does not mean you have to blindly follow the crowd. Be an individual, enjoy yourself and do it safely and responsibly.
Related Stories
By Lori Rice-Spearman, Ph.D., Steven L. Berk, M.D.
March 22, 2022
TTUHSC Celebration of Life Service was held March 25th in remembrance of Tom McGovern, Ed.D.
By Suzanna Cisneros
March 18, 2022
TTUHSC has been named as a Military Friendly® School for 2022-2023. Among graduate schools, TTUHSC ranked fourth in the nation, achieving Gold award status.
By Meaghan Collier
March 17, 2022
On March 16, fourth-year TTUHSC Jerry H. Hodge School of Pharmacy students interested in completing a residency after they graduate in May, learned where they would spend the next stage of their training during the Pharmacy Residency Match Day.
Recent Stories
Education
By Mark Hendricks
September 23, 2022
Fifth graders from Bean Elementary School became doctors for a day. The Texas Tech University Health Sciences Center (TTUHSC) Student National Medical Association (SNMA) hosted the Doctors for a Day Minicamp on Sept. 23.
Research
By Mark Hendricks
September 22, 2022
Pablo Artigas, Ph.D., from TTHSC's School of Medicine's Department of Cell Physiology and Molecular Biophysics, published a study with his team of collaborators in Nature Communications.
Campus Life
By Mark Hendricks
September 20, 2022
The Texas Panhandle Poison Center (TPPC), managed by the Jerry H. Hodge School of Pharmacy, will host Lubbock's Fall Medication Cleanout™ event October 1.