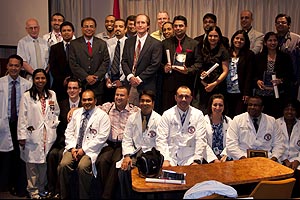 The ceremony honored 28 Amarillo residents for their intensive study and hard work in various medical disciplines.
The Amarillo campus recently honored residents during the 24th annual Resident Recognition Program.
"This is always an exciting time for the faculty, residents and their families," said Regional Dean Richard Jordan, M.D. "It's the culmination of three or four years of hard long hours, hard work and intensive study."
During that time, residents played a critical role in health care of patients in Amarillo and the Texas Panhandle gaining valuable knowledge at one of the university's academic and clinical partners that include Northwest Texas Healthcare System, Baptist St. Anthony's Health System and the Thomas E. Creek VA Medical Center.
Jordan talked about the journey residents completed, a journey filled with a range of emotions including doubt, exhaustion, frustration and sheer terror when a patient's life hangs in the balance.
"However, there are also times of joy and excitement when helping and saving patients who totally depend on residents and their teams," Jordan said.
"We're ready for the real world," said Pradeep K. Selvaraj, M.D., one of 28 residents honored during the ceremony who completed a residency in the Department of Internal Medicine. "I feel so strongly about the program. TTUHSC trains us so well that I know we are all ready for our next step.
"You get a lot of freedom and hands on experience," Selvaraj added. "When you don't have that freedom, it's hard. It's really important to patient care and will benefit us in the real world."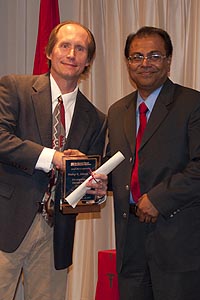 While internal medicine resident Selvaraj feels prepared to begin the next stage of his career, he described the day as bittersweet.
While excited for the future, Selvaraj noted the day was a little bittersweet.
"It's exciting, it's a life changing day," he said.
It's a change that will take Selvaraj and his family to a rural area of Louisiana and others as far away as Hawaii. Some residents will continue their education, moving on to various fellowships across the country while others continue to practice in West Texas.
"They completed one journey only to start another. We know they will continue to grow and make us proud," Jordan said as he raised his hands and reminded the physicians to always keep their guns up.
The 28 residents honored were:
Department of Family and Community Medicine
Wednesday A. Biscocho, M.D.
Anthony R. Gipson, M.D.
Thomas Michael Mercado, M.D.
Francis Gerald F. Mijares, M.D.
Cephas Mujuruki, M.D.
Nygi Susan Raju, M.D.
Marcio Rotta Soares, M.D.
Department of Internal Medicine
Md. Jewel Ahmed, M.D.
Subhan Ahmed, M.D.
Arati Rani Chand, M.D.
Nalinikumari Gandhe, M.D.
Dana Lynn Giles, M.D.
Sayyed Farhan Ali Jaffri, M.D.
Mamta Kumar, M.D.
Tashfeen Mahmood, M.D.
Sheetal Pankaj Meshram, M.D.
Vinay Kumar Parameswara, M.D.
Ronak Jashvantray Patel, M.D.
Pradeep K. Selvaraj, M.D.
Houman Sharifi, M.D.
Department of Obstetrics and Gynecology
Stephen J. Griffin, M.D.
Lacy Coker Kessler, M.D.
Autumn Stowe-Quain, M.D.
Department of Pediatrics
Andrew Faniku, M.D.
Sarah Hasham, M.D.
Zankhana Master, M.D.
Rasmi Palassery, M.D.
Kunjan Shakya, M.D.
Awards presented were:
Outstanding First Year Resident
Pramod Sharma, M.D., Department of Family and Community Medicine
Mohamed Elamin, M.D., Department of Internal Medicine
Nicole Meisner, M.D., Department of Obstetrics and Gynecology
Claudia Neugebauer, M.D., Department of Pediatrics
Residents' Choice Award
Pradeep Selvaraj, M.D., Department of Internal Medicine
Golden Apple Award
John Slaton, D.O., Department of Family and Community Medicine
George H. Kollmar, M.D. Award
Nazrul Chowdhury, M.D., Department of Internal Medicine