Commit to Weight Loss in 5 Easy Steps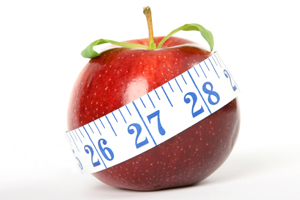 According to the National Institutes of Health, people lose on average 20 percent more weight when they combine a healthy diet with exercise than with diet alone.
Americans spend $40 billion a year on weight loss programs and products. Often, the money is spent on the latest diet craze with promises of quick results. The truth is, losing weight is hard and requires long-term commitments.
Whit Walker, M.D., Texas Tech Physicians Internal Medicine, recently offered five suggestions to help people lose weight.
Do something for exercise. It could be as simple as walking to the store, hitting the park with your four-legged friend or taking dance lessons with your spouse.
"Make it something you like," Walker said. "If you don't like it, you won't keep it up."
Drink more water and avoid sugary drinks. The fact is that many drinks, like Gatorade, were developed for athletes participating in prolonged, intense physical activity. For most people, the beverages amount to another source of calories that can be hard to burn. Walker also suggested drinking a big glass of water before meals since it can help you feel full with less food.
Add, don't subtract. "Add cherries or grapes or peas," Walker said. "Add them to your breakfast cereal or to your lunch and think positive."
Eat smaller portions. This can be hard, especially when portions at restaurants are so large. Walker suggested splitting with a friend. In fact, many people have started asking for half of their order to go and save it for lunch the next day.
"It's also important to avoid fried foods," Walker said. "Baked fish and chicken are your friend."
When cooking at home, Walker encouraged people to spice up their tables by trying new recipes.
Set goals and reward yourself. "Set a goal, such as losing three pounds per week," Walker added. "If you do this, you will lose 36 pounds in three months."
Finally, Walker said to reward yourself, however, the reward should be a fun activity and not a high-calorie treat.
Related Stories
By Mark Hendricks
March 25, 2022
The Texas Tech University Health Sciences Center (TTUHSC) Graduate School of Biomedical Sciences hosted its 34th Annual Student Research Week March 8-11.
By Mark Hendricks
March 25, 2022
The National Cancer Institute awarded a five-year, $1.9 million grant to C. Patrick Reynolds, M.D., Ph.D., director for the School of Medicine Cancer Center at TTUHSC.
By School of Health Professions
March 24, 2022
Richard Greenhill, DHA, FISQua, FACHE, discusses the hype and reality surrounding AI in healthcare.
Recent Stories
Health
By School of Health Professions
May 19, 2022
Dysphagia is a swallowing disorder that affects a person's ability to eat or drink, affecting between 300,000 and 700,000 people in the United States each year.
Health
By Suzanna Cisneros
May 18, 2022
Brittany Bankhead, M.D., an assistant professor of surgery for the Division of Trauma, Burns and Critical Care at the Texas Tech University Health Sciences Center, said life-threatening bleeding can happen in everyday scenarios.
Education
By Clarissa Sanchez
May 16, 2022
TTUHSC celebrated the completion of the School of Health Professions Physician Assistant Program expansion May 16 with a ceremonial ribbon cutting.