Occupational Therapy Isn't About Finding a Job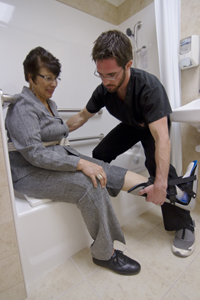 Occupational Therapists help people do daily activities important to their mental and physical health and well-being.
If a person needs help to function better, there is probably something an occupational therapist can do to help, according to the American Occupational Therapy Association Inc. Occupational therapy serves all types of people from premature infants to older adults with widely varying diagnoses like autism, cerebral palsy, Down's syndrome, ADHD, orthopedic injuries, strokes, mental illness, head injuries and spinal cord injuries.
Master's of Occupational Therapy students in the School of Allied Health Sciences have made it a goal this month to spread the word about the benefits of occupational therapy to the Lubbock community.
"The public needs to know about occupational therapy because many health care problems are sudden, unexpected and chronic," said Matthew Geddie, Ph.D., OTR, assistant professor in the Department of Occupational Therapy. "Occupational therapists know about these disorders and can work with people to get back to their highest function physically, emotionally and cognitively. They can also help with adjustment to disability for the client and their families and caregivers."
What is Occupational Therapy?
Karalyn Carmony, a master's of occupational therapy student, said she and her classmates demonstrated how occupational therapists can help in fall prevention, simple exercises people can do at home to maintain their balance and slight home modifications people can make to prevent falls.
Geddie said his students also highlighted occupational therapy by discussing what occupational therapy is, the types of clients occupational therapists serve and demonstrating the types of equipment used in occupational therapy.
"The truth is, people don't know much about occupational therapy," Geddie said. "Many people think we help others find and get jobs, and while if it was a person's goal to get back to work after an injury, we would work with them on the skills they need, but we wouldn't find him or her a job."
Occupational Therapy is the art and science of helping people do the day-to-day activities that are important and meaningful to their health and well-being. These occupations may fall into areas like self-care, learning, work, play, leisure, socialization and rest.
"Occupational therapy is focused on improving function regardless of what that might mean," Geddie said. "So, for a person with Alzheimer's, occupational therapy would address the cognitive deficits in ways that the person might be able to improve their function through compensatory techniques such as task simplification or adaptation of the environment."
If an occupational therapist was working with a premature infant, they may focus on initiating and training a suck reflex to improve feeding, Geddie said. For a person with a spinal cord injury, therapists may focus on activities of daily living like dressing, bathing or feeding or other important tasks like driving, or navigating a college environment from a wheelchair.
Not Just Physical
Geddie said occupational therapists are often compared to physical therapists. And although occupational therapists work with many of the same types of clients as physical therapists, occupational therapists focus on improved function or activities in ways that no other professions do.
"Occupational therapists have significant training and education in psychological areas that allow them to consider and respond to those issues with interventions that may assist people beyond just their physical improvement," Geddie said.
Occupational therapy is an appealing career for those who are interested in both psychological and physical problems that people might experience, Geddie said.
"The field is expansive and allows for flexibility over one's full career," Geddie said. "I was interested in trying to help others function at their best regardless of their situation."
Related Stories
By Mark Hendricks
March 25, 2022
The Texas Tech University Health Sciences Center (TTUHSC) Graduate School of Biomedical Sciences hosted its 34th Annual Student Research Week March 8-11.
By Mark Hendricks
March 25, 2022
The National Cancer Institute awarded a five-year, $1.9 million grant to C. Patrick Reynolds, M.D., Ph.D., director for the School of Medicine Cancer Center at TTUHSC.
By School of Health Professions
March 24, 2022
Richard Greenhill, DHA, FISQua, FACHE, discusses the hype and reality surrounding AI in healthcare.
Recent Stories
Education
By Suzanna Cisneros
May 24, 2022
The school, which is the sixth at the university, aims to train future health care leaders in population and public health.
Education
By Meaghan Collier
May 21, 2022
The TTUHSC Jerry H. Hodge School of Pharmacy celebrated the Class of 2022 May 21 with its annual commencement ceremony.
Health
By School of Health Professions
May 19, 2022
Dysphagia is a swallowing disorder that affects a person's ability to eat or drink, affecting between 300,000 and 700,000 people in the United States each year.