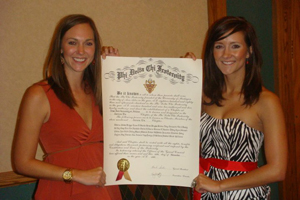 The Abilene School of Pharmacy's Phi Delta Chi Gamma Eta chapter received its charter at the Annual Grand Council Meeting of Phi Delta Chi.
Two student organizations from the School of Pharmacy were recognized at their respective national Grand Council meetings.
The Texas Tech (Delta Pi) Chapter of Kappa Psi Professional Pharmaceutical Fraternity received the William R. Smith Most Improved Chapter Award at the Grand Council Convention of Kappa Psi meeting in San Francisco.
The national award is given to the organization chapter with the most significant improvement over the past year from among the 82 Kappa Psi collegiate chapters. Eight pharmacy students from Amarillo and Dallas/Fort Worth attended the meeting.
"Last February, our chapter was honored at the regional level where we won the Most Improved Chapter Award from among 23 Region 6 chapters," said immediate past President Kevin Aloysius. "To now win a national award is a testimony to the countless hours of hard work each and every member put into this organization. I want to especially thank the executive officers of 2010-2011 year for their time and commitment as well as our faculty adviser, Dr. Eric MacLaughlin, for his guidance."
The School of Pharmacy's Beta Rho/Amarillo chapter of Phi Delta Chi also garnered national recognition when they received the organization's 100 Percent Achievement Award for their performance in leadership, academics and brotherhood during the past year.
Four Amarillo pharmacy students accepted the award in Buffalo, N.Y., at the 68th Annual Grand Council Meeting of Phi Delta Chi. They were joined by two of their brothers from Abilene's Phi Delta Chi Gamma Eta chapter, which received its charter at the meeting.
"It was exciting because not many schools have the unique opportunity to have so many different campuses or to plan cross-campus activities for two chapters," said outgoing Beta Rho President D'Neise Laverty. "Everyone had a great time and we all look forward to growing our organizations this upcoming year."