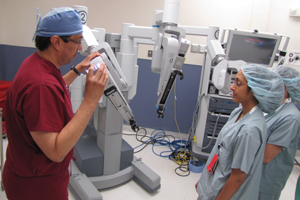 Saldivar works with obstetrics and gynecology students on the da Vinci minimally-invasive surgery simulator.
A collaborative agreement with an El Paso hospital and the Paul L. Foster School of Medicine Department of Obstetrics and Gynecology will ensure obstetrics and gynecology residents receive the latest training in robotic surgery by the time they graduate.
J. Salvador Saldivar, M.D., MPH, assistant professor in the Department of Gynecology Oncology, said the agreement with Las Palmas Medical Center would allow students to learn how to perform minimally invasive gynecological surgery on da Vinci simulator.
"El Paso is the first in the State of Texas to get a simulator for training," said Saldivar, who is also director of the Resident Robotic Training Program. "No other OB/GYN residents in the state are training on da Vinci simulators and doing what our residents are doing."
With the da Vinci training equipment, surgical procedures are simulated through realistic three-dimensional image software. The simulator guides residents through procedures to treat endometriosis, fibroids, prolapsed pelvic organs and gynecological cancer. Surgical procedures on the simulator are so realistic that puffs of smoke are visible after artery cauterization.
Although not all gynecological surgeries can be done with da Vinci, Saldivar said minimally invasive surgery with this type of equipment will become more common in the next few years as hospitals and insurance companies see the benefit to patients. Da Vinci surgery provides patients with the potential for outcomes equal or better than conventional surgery for many procedures, Saldivar said.
"Patients' hospital stays and recovery are shorter, they demand less pain medication, there is less blood loss during their procedure and there is better cosmesis," Saldivar said.