Domo Arigato, Mr. Roboto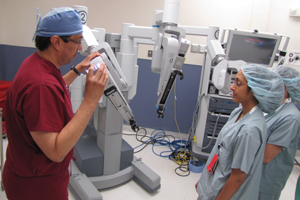 Saldivar works with obstetrics and gynecology students on the da Vinci minimally-invasive surgery simulator.
A collaborative agreement with an El Paso hospital and the Paul L. Foster School of Medicine Department of Obstetrics and Gynecology will ensure obstetrics and gynecology residents receive the latest training in robotic surgery by the time they graduate.
J. Salvador Saldivar, M.D., MPH, assistant professor in the Department of Gynecology Oncology, said the agreement with Las Palmas Medical Center would allow students to learn how to perform minimally invasive gynecological surgery on da Vinci simulator.
"El Paso is the first in the State of Texas to get a simulator for training," said Saldivar, who is also director of the Resident Robotic Training Program. "No other OB/GYN residents in the state are training on da Vinci simulators and doing what our residents are doing."
With the da Vinci training equipment, surgical procedures are simulated through realistic three-dimensional image software. The simulator guides residents through procedures to treat endometriosis, fibroids, prolapsed pelvic organs and gynecological cancer. Surgical procedures on the simulator are so realistic that puffs of smoke are visible after artery cauterization.
Although not all gynecological surgeries can be done with da Vinci, Saldivar said minimally invasive surgery with this type of equipment will become more common in the next few years as hospitals and insurance companies see the benefit to patients. Da Vinci surgery provides patients with the potential for outcomes equal or better than conventional surgery for many procedures, Saldivar said.
"Patients' hospital stays and recovery are shorter, they demand less pain medication, there is less blood loss during their procedure and there is better cosmesis," Saldivar said.
Related Stories
By QEP Committee
March 21, 2023
As spring approaches, some people's thoughts turn to gardening. Whether it's a flower garden they desire or a vegetable garden want to have, they begin planning what they'll plant and what they need to do to ensure a successful garden.
By QEP Committee
March 21, 2023
A "growth mindset" accepts that our intelligence and talents can develop over time, and a person with that mindset understands that intelligence and talents can improve through effort and learning.
By Melissa Whitfield
February 13, 2023
Abstaining from drug abuse and an early diagnosis of familial hypercholesterolemia (high cholesterol) can help prevent heart disease.
Recent Stories
Research
By Mark Hendricks
November 16, 2023
Ninh (Irene) La-Beck, Pharm.D., with the TTUHSC Jerry H. Hodge School of Pharmacy, received a five-year, $2.49 million grant to investigate how nanoparticles interact with the immune system and cancer.
Research
By Mark Hendricks
November 10, 2023
To help investigate the influence basal sex hormone alterations may have on chronic post-op pain, the NIH recently awarded a grant to Jenny Wilkerson, Ph.D., from the Jerry H. Hodge School of Pharmacy.
Health
By Tyler White
November 09, 2023
Scott Shurmur, M.D., a cardiologist at the Texas Tech Physicians Center for Cardiovascular Health, shared his expertise and his experience as a former collegiate athlete.