Domo Arigato, Mr. Roboto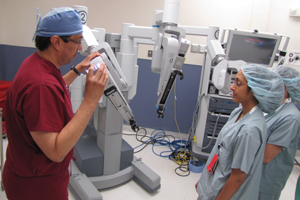 Saldivar works with obstetrics and gynecology students on the da Vinci minimally-invasive surgery simulator.
A collaborative agreement with an El Paso hospital and the Paul L. Foster School of Medicine Department of Obstetrics and Gynecology will ensure obstetrics and gynecology residents receive the latest training in robotic surgery by the time they graduate.
J. Salvador Saldivar, M.D., MPH, assistant professor in the Department of Gynecology Oncology, said the agreement with Las Palmas Medical Center would allow students to learn how to perform minimally invasive gynecological surgery on da Vinci simulator.
"El Paso is the first in the State of Texas to get a simulator for training," said Saldivar, who is also director of the Resident Robotic Training Program. "No other OB/GYN residents in the state are training on da Vinci simulators and doing what our residents are doing."
With the da Vinci training equipment, surgical procedures are simulated through realistic three-dimensional image software. The simulator guides residents through procedures to treat endometriosis, fibroids, prolapsed pelvic organs and gynecological cancer. Surgical procedures on the simulator are so realistic that puffs of smoke are visible after artery cauterization.
Although not all gynecological surgeries can be done with da Vinci, Saldivar said minimally invasive surgery with this type of equipment will become more common in the next few years as hospitals and insurance companies see the benefit to patients. Da Vinci surgery provides patients with the potential for outcomes equal or better than conventional surgery for many procedures, Saldivar said.
"Patients' hospital stays and recovery are shorter, they demand less pain medication, there is less blood loss during their procedure and there is better cosmesis," Saldivar said.
Related Stories
By Lori Rice-Spearman, Ph.D., Steven L. Berk, M.D.
March 22, 2022
TTUHSC Celebration of Life Service was held March 25th in remembrance of Tom McGovern, Ed.D.
By Suzanna Cisneros
March 18, 2022
TTUHSC has been named as a Military Friendly® School for 2022-2023. Among graduate schools, TTUHSC ranked fourth in the nation, achieving Gold award status.
By Meaghan Collier
March 17, 2022
On March 16, fourth-year TTUHSC Jerry H. Hodge School of Pharmacy students interested in completing a residency after they graduate in May, learned where they would spend the next stage of their training during the Pharmacy Residency Match Day.
Recent Stories
Health
By Mark Hendricks
September 29, 2022
CPRIT recently awarded a $1 million prevention grant to Rakhshanda Rahman, M.D., Rebeccah Baucom, M.D., and John Kidwell, M.D., from the TTUHSC School of Medicine.
Research
By Kathryn Dankesreiter (TTU)
September 26, 2022
The Innovation Hub at Research Park today (September 26, 2022) announced the winners of its annual Presidents' Innovative Startup Awards. The award recognizes startups that have a high potential for growth and an economic impact in West Texas.
Education
By Mark Hendricks
September 23, 2022
Fifth graders from Bean Elementary School became doctors for a day. The Texas Tech University Health Sciences Center (TTUHSC) Student National Medical Association (SNMA) hosted the Doctors for a Day Minicamp on Sept. 23.