Protect Your Skin This Summer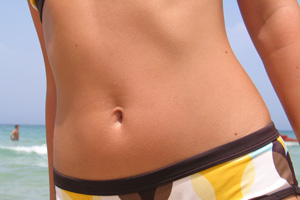 Wearing sunscreen of SPF 15 or higher can protect your skin from harmful UV rays that cause skin cancer.
According to the National Cancer Institute, skin cancer is the most common type of cancer in the U.S. About 1 million Americans develop skin cancer each year.
From 8 a.m. to 1 p.m. May 7 at the University Medical Center (UMC) Southwest Cancer Treatment and Research Center, 602 Indiana Ave., Texas Tech Physicians dermatologists will discuss with individuals skin cancer symptoms such as:
New moles that look different from other moles
New red or darker-colored flaky patches that may be raised
New flesh-colored, firm bumps
Changes in the size, shape, color or feel of moles
Sores that do not heal
Physicians also will conduct skin exams and refer those with suspicious lesions for subsequent treatment. This community service is offered to coincide with National Melanoma and Skin Cancer Detection and Prevention Month.
The screening is sponsored by Texas Tech Physicians Dermatology and UMC Southwest Cancer Treatment and Research Center.
Texas Tech Physicians is medical practice comprised of faculty and staff from the School of Medicine.
Related
PAP Smears: What, Why and When
Organ and Tissue Donation Offers a Second Chance at Life
Related Stories
By QEP Committee
March 21, 2023
As spring approaches, some people's thoughts turn to gardening. Whether it's a flower garden they desire or a vegetable garden want to have, they begin planning what they'll plant and what they need to do to ensure a successful garden.
By QEP Committee
March 21, 2023
A "growth mindset" accepts that our intelligence and talents can develop over time, and a person with that mindset understands that intelligence and talents can improve through effort and learning.
By Melissa Whitfield
February 13, 2023
Abstaining from drug abuse and an early diagnosis of familial hypercholesterolemia (high cholesterol) can help prevent heart disease.
Recent Stories
Campus Life
By Meaghan Collier
March 31, 2023
TTUHSC School of Nursing honored its first class of Bachelor of Science in Nursing (BSN) graduates with a lamp lighting ceremony on Thursday, March 30.
Health
By Melissa Whitfield
March 30, 2023
Texas Tech Physicians primary and specialty clinics across West Texas have completed more than 160,000 telehealth visits since the start of the pandemic.
Education
By Suzanna Cisneros
March 24, 2023
Recognizing academic excellence, the honors are the most prestigious awards granted to faculty throughout the TTU System. The awards are funded by gifts to the Chancellor's Council, a giving society that supports the chancellor's priorities across the TTU System.