Breast Care for the Cure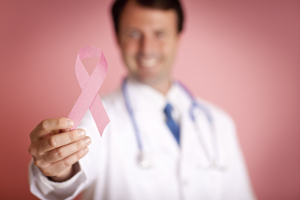 The grant money will allow the UBCC the bridge the gaps between breast cancer screening, treatment and support services for the El Paso community.
The El Paso Affiliate of Susan G. Komen for the Cure has awarded a $138,652 grant to the University Breast Care Center (UBCC) for oncology and support services and primary surgery for breast cancer patients.
Diagnosing the Disease
Last year, the UBCC had 4,719 patient visits. Approximately 890 of those visits were new patients. Last year, 125 new cases of breast cancer were diagnosed. Therefore, approximately one out of every 10 new patients with a breast complaint is diagnosed with cancer.
"All of us associated with the University Breast Care Center are very appreciative of the continuing and generous support from the Susan G. Komen for the Cure El Paso Affiliate," UBCC Assistant Director Yolie Torres said. "The grant money will help us continue our care to medically indigent El Paso women."
Overcoming Barriers
Susan G. Komen for the Cure is the world's largest breast cancer organization, and the El Paso affiliate is one of 122 affiliates dedicated to ending breast cancer in their communities. Komen affiliates fund innovative programs that help women and men overcome the cultural, social, educational and financial barriers to breast cancer screening and treatment.
"To meet needs we have discovered right here in our community, this year's grantees specifically address the gaps in screening, treatment and support services for underserved women and men without the financial means to pay for these services throughout El Paso," said Stephanie Flora, executive director of the affiliate. "We are confident that through the University Breast Care Center, Hispanic women in our community will have low-cost access to the care they need."
For 20 years, the El Paso affiliate has been dedicated to the Komen mission, supporting and sponsoring breast cancer education and awareness programs throughout El Paso County. Since its inception, the El Paso affiliate has produced more than $3.6 million to provide underserved men and women with breast cancer education, screening and treatment resources. Up to 75 percent of net proceeds generated by the affiliate stay in El Paso County, with the remaining 25 percent used to fund national research.
Related
Survivor Vows to Never Stop Fighting
PAP Smears: What, Why and When
Related Stories
By Lori Rice-Spearman, Ph.D., Steven L. Berk, M.D.
March 22, 2022
TTUHSC Celebration of Life Service was held March 25th in remembrance of Tom McGovern, Ed.D.
By Suzanna Cisneros
March 18, 2022
TTUHSC has been named as a Military Friendly® School for 2022-2023. Among graduate schools, TTUHSC ranked fourth in the nation, achieving Gold award status.
By Meaghan Collier
March 17, 2022
On March 16, fourth-year TTUHSC Jerry H. Hodge School of Pharmacy students interested in completing a residency after they graduate in May, learned where they would spend the next stage of their training during the Pharmacy Residency Match Day.
Recent Stories
Education
By Mark Hendricks
September 23, 2022
Fifth graders from Bean Elementary School became doctors for a day. The Texas Tech University Health Sciences Center (TTUHSC) Student National Medical Association (SNMA) hosted the Doctors for a Day Minicamp on Sept. 23.
Research
By Mark Hendricks
September 22, 2022
Pablo Artigas, Ph.D., from TTHSC's School of Medicine's Department of Cell Physiology and Molecular Biophysics, published a study with his team of collaborators in Nature Communications.
Campus Life
By Mark Hendricks
September 20, 2022
The Texas Panhandle Poison Center (TPPC), managed by the Jerry H. Hodge School of Pharmacy, will host Lubbock's Fall Medication Cleanout™ event October 1.