A Heart for Healing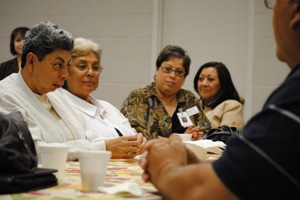 Promotores in the West Texas Community Health Workers Network recently met to discuss how to strengthen the program to better serve their communities.
Edward Olivarez has spent more than five years educating the West Texas Hispanic community about diabetes.
Olivarez, a Lubbock resident who himself struggles with the chronic disease, said he knows first-hand why it is important for people with diabetes to manage their diet, medication and lifestyle.
Sharing Knowledge, Spreading Hope
By enrolling in a course to become one of 35 certified community health workers, or promotores, in the West Texas Community Health Workers Network, Olivarez became equipped with the skills he needed to pass valuable health advice and guidance to underserved residents who may not otherwise seek health care.
"[By becoming a promotor] I found myself because I really enjoy helping people," Olivarez said.
Emma Hernandez, of Lubbock, became a promotora after she lost her husband to diabetes. She said she enjoys educating people about medication guidelines and disease management because she believes empowering people with knowledge about their diseases gives them hope.
"Being a diabetic is not the end of the world," Hernandez said. "It's just a new era."
Bridging the Gaps
Promotores in the West Texas Community Health Workers Network have more than 10 years of evidence-based experience acting as bridges between community members and health care professionals to provide health care referrals, needs assessment and education about breast cancer, congestive heart failure, obesity, diabetes, hypertension and asthma.
"In any way we can, we motivate [our clients] to make healthy changes in their lifestyles," said Promotora Mary Paul.
Leading a healthier lifestyle is important when combating many chronic diseases because they're often connected, said Yondell Masten, Ph.D., R.N., interim dean of the School of Nursing. And promotores play a pivotal role in helping their clients focus on disease prevention and consequences.
But clients of promotores aren't the only ones motivated by the program to change their lives.
Leticia Barron said not only has becoming a promotora enabled her to support her community, it has also given her confidence and a sense of purpose.
"This class is awesome," Barron said. "So what if I just have a high school education. That doesn't have anything to do with it. I have that heart that corazón to go out there and do it."
Strength in Numbers
Debra Flores, M.A., promotora project director and instructor in the Anita Thigpen Perry School of Nursing, said she is proud of how much the promotora movement in West Texas has grown, and looks forward to strengthening the program by gaining more state support to hire additional community health worker instructors to produce more promotores for the West Texas region.
"The demand is growing for these types of jobs," Flores said. "We're very proud that we're spreading into the rural communities because we realize the need is there."
Related Stories
By QEP Committee
March 21, 2023
As spring approaches, some people's thoughts turn to gardening. Whether it's a flower garden they desire or a vegetable garden want to have, they begin planning what they'll plant and what they need to do to ensure a successful garden.
By QEP Committee
March 21, 2023
A "growth mindset" accepts that our intelligence and talents can develop over time, and a person with that mindset understands that intelligence and talents can improve through effort and learning.
By Melissa Whitfield
February 13, 2023
Abstaining from drug abuse and an early diagnosis of familial hypercholesterolemia (high cholesterol) can help prevent heart disease.
Recent Stories
Research
By Mark Hendricks
November 16, 2023
Ninh (Irene) La-Beck, Pharm.D., with the TTUHSC Jerry H. Hodge School of Pharmacy, received a five-year, $2.49 million grant to investigate how nanoparticles interact with the immune system and cancer.
Research
By Mark Hendricks
November 10, 2023
To help investigate the influence basal sex hormone alterations may have on chronic post-op pain, the NIH recently awarded a grant to Jenny Wilkerson, Ph.D., from the Jerry H. Hodge School of Pharmacy.
Health
By Tyler White
November 09, 2023
Scott Shurmur, M.D., a cardiologist at the Texas Tech Physicians Center for Cardiovascular Health, shared his expertise and his experience as a former collegiate athlete.