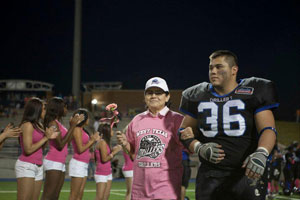 During halftime, survivors like John Mireles' grandmother (pictured above) were recognized for their perseverance in their fight against breast cancer.
Football season may be over, but the outcome of a pink pigskin fundraiser will soon pay off for women in the Permian Basin.
The West Texas Drillers Football Club recently sponsored a halftime auction of pink footballs and raised more than $5,000, which was donated to the Laura W. Bush Institute for Women's Health (LWBIWH) at the Permain Basin's free mammogram program.
Creating New Memories
During the fundraising football game, players tossed and kicked a pink football through end zones and field goals. During halftime, Driller's players escorted breast cancer survivors to center field, where they were recognized for their bravery and perseverance. Several of the women were players' family members.
"What I am really happy about is that I think we were able to make memories for survivors, players and fans that they will remember forever," said Harold Fuller, owner of the West Texas Drillers. "I know I will never forget the pride that I saw on our fullback John Mireles's face as he walked his grandmother onto the field.
"His main job on the football field is to hit people, so it was great to see another side of him."
The funds will allow about 18 women to receive breast cancer screenings at the LWBIWH Permian Basin's partner hospitals.
This year, about 230,480 new cases of invasive breast cancer will be diagnosed in women, according to the American Cancer Society. About 39,520 women will die from the disease. Early detection through breast screenings, like mammograms after age 40, are essential to successful breast cancer treatment and survival.