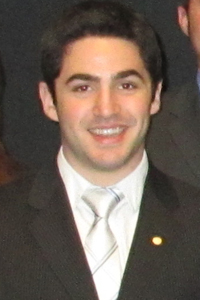 Goldman will pursue a residency in plastic and reconstructive surgery in the fall.
The American Medical Association (AMA) Foundation recently awarded Physicians of Tomorrow Scholarships to 18 fourth-year medical students, including one student from the School of Medicine.
Recipients were nominated by their medical schools and chosen based upon their academics, financial status and community involvement. Each student will receive a $10,000 scholarship to defray medical school expenses.
"In a profession of swift change and a society in constant flux, it is certainly a monumental honor to have been named an AMA Foundation Physicians of Tomorrow Scholarship recipient," said Joshua Goldman, a fourth-year student in the School of Medicine. "As I venture on, less concern over my financial situation means more time to contribute to the future of medicine, science and my community."
Goldman, of Midland, will begin applying for a residency in plastic and reconstructive surgery with a particular interest in reconstruction this fall.
In the future, he hopes to enrich his clinical experience and his effect on patients by continuing to conduct laboratory and clinical research, through work with state and national associations and by participating in domestic and international volunteer opportunities.
Goldman graduated with honors from Stanford University in 2007 with a Bachelor of Science in biological sciences. He is also a student ambassador for the AMA Foundation and a campus representative for the School of Medicine's Educational Policy Committee.
The AMA Foundation has made it a priority to assist medical students in handling the rising cost of medical education by providing high-impact tuition assistance scholarships. On average, medical students in the U.S. graduate with a debt load of nearly $158,000. A large debt burden may deter many from practicing in underserved areas of the country or practicing primary care medicine.