Future Physician Looks Forward to a Bright Tomorrow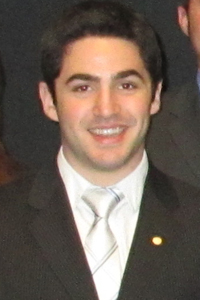 Goldman will pursue a residency in plastic and reconstructive surgery in the fall.
The American Medical Association (AMA) Foundation recently awarded Physicians of Tomorrow Scholarships to 18 fourth-year medical students, including one student from the School of Medicine.
Recipients were nominated by their medical schools and chosen based upon their academics, financial status and community involvement. Each student will receive a $10,000 scholarship to defray medical school expenses.
"In a profession of swift change and a society in constant flux, it is certainly a monumental honor to have been named an AMA Foundation Physicians of Tomorrow Scholarship recipient," said Joshua Goldman, a fourth-year student in the School of Medicine. "As I venture on, less concern over my financial situation means more time to contribute to the future of medicine, science and my community."
Goldman, of Midland, will begin applying for a residency in plastic and reconstructive surgery with a particular interest in reconstruction this fall.
In the future, he hopes to enrich his clinical experience and his effect on patients by continuing to conduct laboratory and clinical research, through work with state and national associations and by participating in domestic and international volunteer opportunities.
Goldman graduated with honors from Stanford University in 2007 with a Bachelor of Science in biological sciences. He is also a student ambassador for the AMA Foundation and a campus representative for the School of Medicine's Educational Policy Committee.
The AMA Foundation has made it a priority to assist medical students in handling the rising cost of medical education by providing high-impact tuition assistance scholarships. On average, medical students in the U.S. graduate with a debt load of nearly $158,000. A large debt burden may deter many from practicing in underserved areas of the country or practicing primary care medicine.
Related Stories
By Lori Rice-Spearman, Ph.D., Steven L. Berk, M.D.
March 22, 2022
TTUHSC Celebration of Life Service was held March 25th in remembrance of Tom McGovern, Ed.D.
By Suzanna Cisneros
March 18, 2022
TTUHSC has been named as a Military Friendly® School for 2022-2023. Among graduate schools, TTUHSC ranked fourth in the nation, achieving Gold award status.
By Meaghan Collier
March 17, 2022
On March 16, fourth-year TTUHSC Jerry H. Hodge School of Pharmacy students interested in completing a residency after they graduate in May, learned where they would spend the next stage of their training during the Pharmacy Residency Match Day.
Recent Stories
Health
By Mark Hendricks
September 29, 2022
CPRIT recently awarded a $1 million prevention grant to Rakhshanda Rahman, M.D., Rebeccah Baucom, M.D., and John Kidwell, M.D., from the TTUHSC School of Medicine.
Research
By Kathryn Dankesreiter (TTU)
September 26, 2022
The Innovation Hub at Research Park today (September 26, 2022) announced the winners of its annual Presidents' Innovative Startup Awards. The award recognizes startups that have a high potential for growth and an economic impact in West Texas.
Education
By Suzanna Cisneros
September 23, 2022
Fifth graders from Bean Elementary School became doctors for a day. The Texas Tech University Health Sciences Center (TTUHSC) Student National Medical Association (SNMA) hosted the Doctors for a Day Minicamp on Sept. 23.