A Team Effort in the Battle Against Epilepsy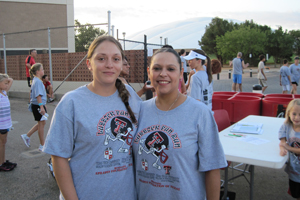 Jo Ann S. Perez (right), with the Department of Orthopaedics, suffered a seizure after the birth of her twins. With her is Sharen Muniz, an employee in the Surgery/ENT Clinic.
The Texas Tech football facilities had a new team come out for a different battle. Coach Tommy Tuberville, the Texas Rangers, faculty, staff and students from the School of Medicine and other community members came out in a team effort to raise money and awareness for the Epilepsy Foundation of Texas.
The School of Medicine was a strong supporter of this year's Epilepsy Foundation Lubbock 5k run with 51 out of the almost 100 participants.
According to the Epilepsy Foundation, epilepsy is a medical condition that produces seizures affecting a variety of mental and physical functions. One in 10 adults will have a seizure sometime during their life. Seizures happen when clusters of nerve cells in the brain signal abnormally, which may briefly alter a person's consciousness, movements or actions.
Epilepsy affects nearly 3 million Americans and 50 million people worldwide.
While medications and other treatments help many people of all ages who live with epilepsy, more than a million people continue to have seizures that can severely limit life's experiences. Anyone can develop epilepsy at any age. In the U.S., it affects more than 300,000 children under the age of 15.
John De Toledo, M.D., chairman of the Department of Neurology, said with so many people being affected with epilepsy, events such as these are important to the diagnosis and treatment of the community.
"Hundreds of epilepsy patients living in the South Plains do not have access to care in their area," De Toledo said. "This event will help continue the support needed for those affected by the disease."
Jo Ann S. Perez, from the Department of Orthopaedics, knows all too well what a seizure feels like. She suffered one after the birth of her twins.
"My heart goes out to those who suffer from epilepsy," Perez said. "I didn't remember anything after the seizure and the fear is always there of 'what if I have another one.'"
Perez said her physicians did not find the cause of her seizure but suffering one gives a person a feeling of no control.
"It's pretty scary and something I will never forget," Perez said. "Suffering from a seizure really touched me. That is why I came out to the event. It felt good to do my part. Every little bit counts."
Related
Avoid the Preventable: Protect Your Prostate
Related Stories
By QEP Committee
March 21, 2023
As spring approaches, some people's thoughts turn to gardening. Whether it's a flower garden they desire or a vegetable garden want to have, they begin planning what they'll plant and what they need to do to ensure a successful garden.
By QEP Committee
March 21, 2023
A "growth mindset" accepts that our intelligence and talents can develop over time, and a person with that mindset understands that intelligence and talents can improve through effort and learning.
By Melissa Whitfield
February 13, 2023
Abstaining from drug abuse and an early diagnosis of familial hypercholesterolemia (high cholesterol) can help prevent heart disease.
Recent Stories
Research
By Mark Hendricks
November 16, 2023
Ninh (Irene) La-Beck, Pharm.D., with the TTUHSC Jerry H. Hodge School of Pharmacy, received a five-year, $2.49 million grant to investigate how nanoparticles interact with the immune system and cancer.
Research
By Mark Hendricks
November 10, 2023
To help investigate the influence basal sex hormone alterations may have on chronic post-op pain, the NIH recently awarded a grant to Jenny Wilkerson, Ph.D., from the Jerry H. Hodge School of Pharmacy.
Health
By Tyler White
November 09, 2023
Scott Shurmur, M.D., a cardiologist at the Texas Tech Physicians Center for Cardiovascular Health, shared his expertise and his experience as a former collegiate athlete.