A Team Effort in the Battle Against Epilepsy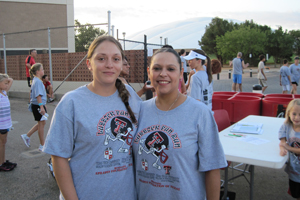 Jo Ann S. Perez (right), with the Department of Orthopaedics, suffered a seizure after the birth of her twins. With her is Sharen Muniz, an employee in the Surgery/ENT Clinic.
The Texas Tech football facilities had a new team come out for a different battle. Coach Tommy Tuberville, the Texas Rangers, faculty, staff and students from the School of Medicine and other community members came out in a team effort to raise money and awareness for the Epilepsy Foundation of Texas.
The School of Medicine was a strong supporter of this year's Epilepsy Foundation Lubbock 5k run with 51 out of the almost 100 participants.
According to the Epilepsy Foundation, epilepsy is a medical condition that produces seizures affecting a variety of mental and physical functions. One in 10 adults will have a seizure sometime during their life. Seizures happen when clusters of nerve cells in the brain signal abnormally, which may briefly alter a person's consciousness, movements or actions.
Epilepsy affects nearly 3 million Americans and 50 million people worldwide.
While medications and other treatments help many people of all ages who live with epilepsy, more than a million people continue to have seizures that can severely limit life's experiences. Anyone can develop epilepsy at any age. In the U.S., it affects more than 300,000 children under the age of 15.
John De Toledo, M.D., chairman of the Department of Neurology, said with so many people being affected with epilepsy, events such as these are important to the diagnosis and treatment of the community.
"Hundreds of epilepsy patients living in the South Plains do not have access to care in their area," De Toledo said. "This event will help continue the support needed for those affected by the disease."
Jo Ann S. Perez, from the Department of Orthopaedics, knows all too well what a seizure feels like. She suffered one after the birth of her twins.
"My heart goes out to those who suffer from epilepsy," Perez said. "I didn't remember anything after the seizure and the fear is always there of 'what if I have another one.'"
Perez said her physicians did not find the cause of her seizure but suffering one gives a person a feeling of no control.
"It's pretty scary and something I will never forget," Perez said. "Suffering from a seizure really touched me. That is why I came out to the event. It felt good to do my part. Every little bit counts."
Related
Avoid the Preventable: Protect Your Prostate
Related Stories
By Lori Rice-Spearman, Ph.D., Steven L. Berk, M.D.
March 22, 2022
TTUHSC Celebration of Life Service was held March 25th in remembrance of Tom McGovern, Ed.D.
By Suzanna Cisneros
March 18, 2022
TTUHSC has been named as a Military Friendly® School for 2022-2023. Among graduate schools, TTUHSC ranked fourth in the nation, achieving Gold award status.
By Meaghan Collier
March 17, 2022
On March 16, fourth-year TTUHSC Jerry H. Hodge School of Pharmacy students interested in completing a residency after they graduate in May, learned where they would spend the next stage of their training during the Pharmacy Residency Match Day.
Recent Stories
Education
By Mark Hendricks
September 23, 2022
Fifth graders from Bean Elementary School became doctors for a day. The Texas Tech University Health Sciences Center (TTUHSC) Student National Medical Association (SNMA) hosted the Doctors for a Day Minicamp on Sept. 23.
Research
By Mark Hendricks
September 22, 2022
Pablo Artigas, Ph.D., from TTHSC's School of Medicine's Department of Cell Physiology and Molecular Biophysics, published a study with his team of collaborators in Nature Communications.
Campus Life
By Mark Hendricks
September 20, 2022
The Texas Panhandle Poison Center (TPPC), managed by the Jerry H. Hodge School of Pharmacy, will host Lubbock's Fall Medication Cleanout™ event October 1.