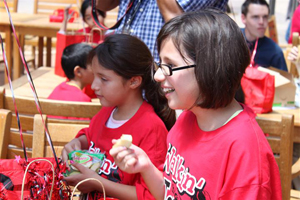 The Paul L. Foster School of Medicine is doing its part to help combat childhood obesity in El Paso.
Healthy diets equal smart, alert learners, and the Paul L. Foster School of Medicine and its partners at Entravision recently provided 60 elementary residents of the Housing Authority of the City of El Paso (HACEP) with free healthy lunches.
Children also received a lesson about the importance of leading healthy and active lifestyles from sports medicine physician Arthur Islas, M.D., as well as inspirational words from Jose Manuel de la Rosa, M.D., founding dean of the Paul L. Foster School of Medicine.
Leftover lunches were delivered to two HACEP locations and distributed to elementary school children.
The prevalence of obesity among children aged 6 to 11 years increased from 6.5 percent in 1980 to 19.6 percent in 2008, according to the Centers for Disease Control and Prevention. Overall, the prevalence of more overweight and obese Texas school children was 42 percent for fourth graders, 39 percent for eighth graders and 36 percent for eleventh graders.
The Healthy Lunchbox Initiative is a Walkin' the Talk event. Walkin' the Talk is a Paul L. Foster School of Medicine initiative aimed at making the campus and surrounding neighborhoods healthier.