Students Work to Quiet Hunger Pangs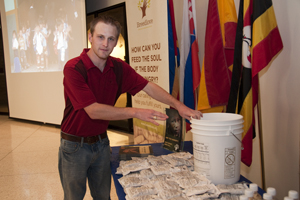 Hosts of the Poverty Banquet hope to decrease hunger and malnutrition, which are the number one risks to health worldwide.
More than 960 million people throughout the world are hungry — that's more than the populations of the U.S., Canada and the European Union Combined. In 2009, 43.6 million people in America were in poverty, according to the U.S. Census bureau.
Poverty is defined using income before taxes and does not include capital gains or non-cash benefits, according to the U.S. Census Bureau. For example, in 2009, a family of four was considered to be in poverty if the household income was below $21,954.
The School of Medicine International Medicine Club recently hosted the second annual Poverty Banquet to raise awareness and provide education about the critical issue of poverty in Lubbock and around the world.
Proceeds from the banquet benefit Breedlove Foods Inc., a nonprofit organization in Lubbock that has provided food to the hungry locally, and on a global level since the early '90s. Breedlove's vision is to transform lives through hope and encouragement.
The International Medical Club promotes the health of a global community, which reflects the overall goals of students, faculty and staff.
Gallery
Related Stories
By QEP Committee
March 21, 2023
As spring approaches, some people's thoughts turn to gardening. Whether it's a flower garden they desire or a vegetable garden want to have, they begin planning what they'll plant and what they need to do to ensure a successful garden.
By QEP Committee
March 21, 2023
A "growth mindset" accepts that our intelligence and talents can develop over time, and a person with that mindset understands that intelligence and talents can improve through effort and learning.
By Melissa Whitfield
February 13, 2023
Abstaining from drug abuse and an early diagnosis of familial hypercholesterolemia (high cholesterol) can help prevent heart disease.
Recent Stories
Education
By Suzanna Cisneros
December 07, 2023
HACU announced Sonya Castro-Quirino, D.Bioethics, TTUHSC vice president of Office of Institutional Compliance, as one of the 50 fellows of HACU's Leadership Academy/La Academia de Liderazgo.
Campus Life
By Samantha White via TAFP news release
December 05, 2023
Ronald L. Cook, DO, MBA, of Lubbock, Texas, was named the 2023 Texas Family Physician of the Year during TAFP's Annual Session and Primary Care Summit in Grapevine on Nov. 11.
Research
By Mark Hendricks
November 16, 2023
Ninh (Irene) La-Beck, Pharm.D., with the TTUHSC Jerry H. Hodge School of Pharmacy, received a five-year, $2.49 million grant to investigate how nanoparticles interact with the immune system and cancer.