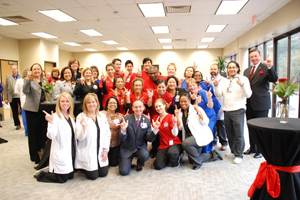 Ten second-degree nursing students in Dallas/Fort-Worth began classes on Jan. 14.
The School of Nursing recently welcomed its first class of 10 nursing students in Dallas/Fort Worth. In May 2013, the Texas Tech University System Board of Regents approved the establishment of a Web-based Second Degree Baccalaureate Nursing Degree Program for students in the Metroplex. Students began classes on Jan. 14.
"We are pleased to introduce this accelerated second degree BSN program to the DFW region," said School of Nursing Dean Michael L. Evans, Ph.D., R.N., FAAN. "We also are pleased to be joining the other excellent nursing programs in the area to meet the current and future need to educate more students to become nurses. This program is aimed at attracting mid-career, degreed individuals who want to be a BSN registered nurse."
The Second Degree Program is designed for students with a previous college degree. The accelerated 12-month program includes coach and nurse educator oversight in the student's own communities in Abilene, Lubbock, Austin, El Paso, the Permian Basin and now Dallas/Fort Worth. Students in the Dallas program will gain on-site clinical experience at 25 Texas Health Resources hospitals.
"Together with our Center for Advancing Professional Practice we have been instrumental in creating a new learning culture for the profession of nursing through this innovative education affiliation with Texas Tech," said Cole Edmonson, DNP, R.N., FACHE, NEA-BC, chief nursing officer at Texas Health Presbyterian Hospital Dallas. "These students will have an opportunity for an immersion experience in a dedicated education unit designed to produce quality outcomes. Our goal is to make students an integral part of the care team and a sustainable part of the workforce to meet the triple aim, better care, improved outcomes at a lower cost."
Accelerated programs, like the School of Nursing's Second Degree Program, offer the most efficient route to licensure as a registered nurse for people who have already completed a baccalaureate or graduate degree, according to the Robert Wood Johnson Foundation.
The Institute of Medicine and the Robert Wood Johnson Foundation have set a goal for 80 percent of the nation's nurses to earn their bachelor's degrees in nursing by 2020 to provide safe, quality, patient-centered, accessible and affordable care in the 21st century. Currently the national average of bachelor's-prepared nurses is 50 percent. Texas stands below that average at 37 percent.
The School of Nursing plans to have 35 students in the Metroplex within two years.