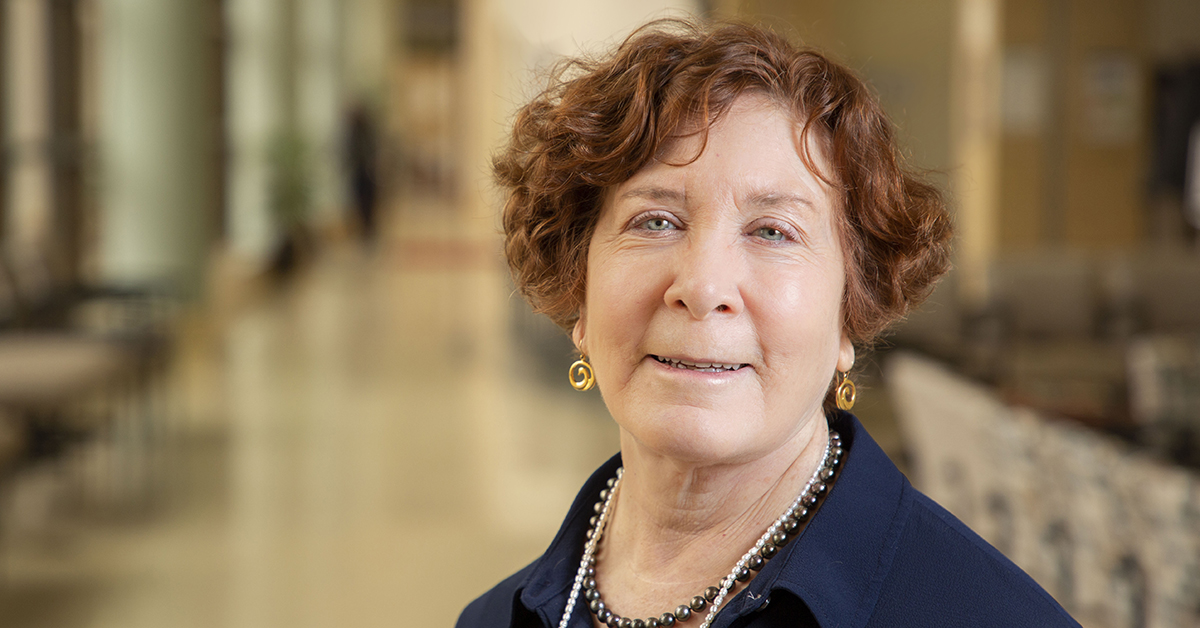 Theresa Byrd, Dr.P.H., associate dean and chair of the TTUHSC Department of Public Health.
Public health professionals typically work in a very different environment than their colleagues in clinical health. While doctors, nurses and associated health care workers in the clinical setting tend to treat individuals' specific medical issues, community-based public health workers are more concerned with the prevention of disease and life-limiting health problems in the wider population.
We spoke with Dr. Theresa Byrd, Associate Dean and Chair of the Department of Public Health at Texas Tech University Health Sciences Center (TTUHSC), to learn more about the public health professional's role in community health care and how a master's in public health from TTUHSC prepares students for a career that has a significant impact on the greater good. Public Health is a career with a reach that extends to every community and state across the country — and even across the globe.
What is Community Health Care?
"I think all public health is community-based," says Dr. Byrd. "What makes public health public health is that we don't work in general with individual patients. We work with whole populations. We are interested in prevention and policymaking in order to have healthy communities. Unlike clinical medicine where you are diagnosing and treating disease in individuals, we are actually diagnosing and addressing issues on a population level."
It was the prospect of working with large groups of people that initially attracted Byrd to follow a career in community health care — but working in health care wasn't always her first career choice.
"I started out as a music major," says Byrd. "I was going to be a classical pianist and I was pretty good at it. I got into music school and college — but you know, everybody was really good at it! I'm an extrovert and I couldn't lock myself in a practice room for 12 hours a day like some of my colleagues. I said to myself, 'This is probably not going to work; I'm not actually going to make a living this way.' I was raised by parents from the Depression, so I knew I had to have a job. Then a friend of mine convinced me to go into nursing."
Initially, this change of career didn't quite go according to plan. Byrd explains that as an extrovert, she found it difficult to adjust to life working in a formal, clinical environment. She turned towards public health hoping it would give her greater freedom to make a difference on her terms — and she has never looked back.
"I got accepted into nursing school and discovered that I didn't like hospital nursing," says Byrd. "So I specialized in public health nursing. When I finished nursing school, I worked for a year in the hospital because that was a requirement. As soon as I was done with the year, I was on the phone to the health department and I started working for them soon after that."
Byrd explains that she found her career as a community health worker both empowering and rewarding.
"Back in the day, when I was working in the hospital, I was really good at taking care of people and I was very conscientious — but I just didn't enjoy it," says Byrd. "Public health is more my style because, in public health, I am in charge and able to work with lots of people in the community."
Byrd believes it is the impact that community health workers can have in the wider community that makes the job so rewarding.
"I really love public health because I feel it gives you the opportunity to change society and to change lives," says Byrd. "For instance, when we passed the smoking ordinance in El Paso, the smoking rate was about 24%, which was about normal for the U.S. A year after we passed the ordinance, it was down to 18%; now it's 14%. We could never have achieved that trying to get people to quit on a one-to-one basis. There had to be a level of social pressure to make people want to quit."
Community Health Care in West Texas
According to Byrd, there are a number of specific health issues currently impacting rural communities throughout West Texas.
"We have a lot of challenges in Texas," says Byrd. "In West Texas, we have higher rates of certain cancers, we have higher rates of asthma, and just like the rest of Texas, we have high levels of obesity and diabetes."
Byrd also cites several nationwide health care issues, including the opioid crisis, vaping, and the "anti-vaxxer movement" as having a severe impact on the health and wellbeing of the state's population.
"The anti-vaxxer stuff is a problem," says Byrd. "We've had measles outbreaks. We have very low rates of flu vaccine. We have very low rates of the HPV vaccine and that's been one that's been hyped in social media. It's a problem and I think that if we don't get it under control, people are going to start seeing those serious childhood diseases again."
Byrd suggests that many public health problems can be addressed by promoting healthier lifestyle practices and improving health screening services in rural communities.
"I would say probably 30% of some cancers are caused by smoking or tobacco use, and 30% of other cancers are the result of diet, lack of physical activity and obesity," says Byrd. "A lot of it is due to lifestyle choices but a lot of it is also due to a lack of screening."
Byrd highlights how screening can actually reduce levels of some cancers in the population.
"In the case of colon cancer, screening can actually prevent that cancer," says Byrd. "If people aren't getting screened and they wait until they actually have cancer, that makes treatment a lot harder. Part of all these challenges is screening, part of it is probably lifestyle, and there's probably some environmental impact going on as well."
Assessment, Assurance, and Policy
Byrd explains that there are three core functions in public health: assessment, assurance, and policy.
"A lot of what we do with epidemiology [the branch of public health that deals with the incidence, distribution, and possible control of diseases and other factors relating to health] is assessment so we can understand what is causing populations to have specific health issues," says Byrd. "That's how we know that tobacco causes cancer. Assurance means assuring a society in which people can be healthy. That involves making sure they have access to care in community health centers but also larger things like clean air, clean water, good food, etc. That's where the policy piece fits in. Part of what we do is try to develop healthy policies."
Developing policies can be one of the most challenging steps in the process of implementing a community health care program.
"Developing new policies can be either easy or hard depending on the priorities of the administration that's in power," says Byrd. "Actually, it's never easy — it's either hard or harder to get policies passed."
Another factor that complicates the development of new policies is that there are often many moving parts behind every problem — and they all need to get in sync.
"In public health, we always look at everything," says Byrd. "That's what makes us different. We look at all parts of society to figure out what's causing things to happen. To be successful, many things need to come together at one time."
Byrd refers again to the success of smoking cessation programs across the United States to demonstrate how public health policy can improve the nation's health but she stresses there is little room for complacency.
"We've been very successful in the United States and Texas (although not statewide) at getting smoking ordinances in place so that people cannot smoke inside buildings," says Byrd. "We've just passed a statewide age restriction of 21 to be able to smoke in Texas. That is happening in a lot of states, shifting the legal smoking age to 21 instead of 18. We now have to learn from this success and understand how public health policy can be used to tackle other problems such as obesity, which is an epidemic here. Then there is the growing opioid problem we must combat as well."
Studying for a Master's in Public Health (MPH) at TTUHSC
Byrd joined TTUHSC full-time a little over six years ago to develop the public health program.
"We've got about 140 students right now and we are accredited," says Byrd.
The training in the public health degree program emphasizes the knowledge and skills associated with the core functions of public health and the integration and application of those functions into practice. The MPH provides students with the knowledge, skills, and values needed to succeed in careers that bridge medicine and public health.
The TTUHSC program is available in both a traditional classroom format and an online format, including an accelerated online program; students are divided equally across both options.
For full-time students taking the traditional classroom-based or online program, the program is completed over two years; the accelerated program can be completed much faster.
The accelerated program is particularly popular with students who want to move into other areas of health care at a later date.
"We have a lot of students who try to get into medical school or nursing school or veterinary school and they don't get in the first time," says Byrd. "They have a year to wait and they want to do something connected to their future career aspirations. So we created the accelerated program. Students in the accelerated program have to take a ton of classes each semester — but they can finish in time to go to medical school, nursing school, or another school the next time around."
TTUHSC Department of Public Health student.
There's No Such Thing as a Typical MPH Student
According to Byrd, students in the MPH program come from a variety of backgrounds.
"We get some students straight out of undergraduate school who may have had a background in psychology or education or even pre-med and they are really interested in how public health works. They even may be interested in working in community health services," says Byrd. "We also get a lot of people who are already working in the health care field. So we have physicians, we have nurses, we have people who are at health departments. This is because, in the United States, about 80% of the people who work in public health are not trained in public health. So some of them come back to get a public health degree so that they can do their job better."
The MPH program at TTUHSC also attracts students with career aspirations outside of health care but who feel that an understanding of population health and dynamics would be useful in their careers.
"For instance, people in law are often interested in public health law and how to further healthy policies," says Byrd.
Questions Potential MPH Students Should Ask
Before embarking on any MPH program, Byrd believes potential students should do their research and ask a number of questions relating to the program and where it can take you.
Understanding the career prospects that are available to graduates of the program is an important point to clarify.
"I would ask what kind of jobs would I be able to get with public health," says Byrd. "Jobs are not just in health departments. People who have degrees in public health get hired at hospitals and at community-based organizations. They can go to work at the Centers for Disease Control and Prevention (CDC) or they can choose to work internationally. There are a lot of different opportunities."
The next question is to understand the quality of the program.
"I would also ask if the program is accredited," says Byrd. "Ours is — but this isn't always the case. The accreditation assures that students are getting the competencies that they need to be a practitioner in public health."
Finally, prospective students should ask about the cost of the program.
"Education can be expensive," says Byrd. "We have two campuses where we run the public health program, one in Lubbock and the other in Abilene. Both provide excellent low-cost centers for education."
The online program also allows students to study from any location, enabling them to balance their existing work and family life along with their education.
"Even though we offer classes at night for a lot of people who are working and have families, it can still be hard for them to be able to get away and attend class," says Byrd. "The beauty of the online program is that it's asynchronous. This means students can participate at any time of day – even in their jammies! I think that a lot of people, particularly younger people, are used to being on their computers, smartphones, and tablets all the time and being online feels natural to them."
Learn More
To learn more about building your career in community health care with a public health degree from TTUHSC, visit the program page on our website or contact us today to speak to a member of our admissions department.