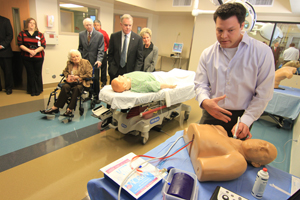 High-tech mannequins aid in student learning and patient safety.
Officials from TTUHSC and Medical Center Hospital (MCH) along with representatives from the Wood Family Foundation recently hosted a grand opening ceremony for the TTUHSC Louise and Clay Wood Simulation Center.
A generous donation from the Wood Family Foundation helped equip the facility with state-of-the-art technology. The Woods are Texas Tech alumni who established Western National Bank in the Permian Basin.
"We are so thankful for the Wood family's continued support of TTUHSC at the Permian Basin," said Texas Tech University System Chancellor Kent Hance. "Their generous gift for the new simulation center will benefit not only our students, but the communities that we serve as well."
The new clinical simulation center is an interdisciplinary, multimodality facility that provides multiple realistic health care environments designed to assist learners in acquiring the competencies necessary to provide safe, culturally sensitive, quality patient care and transferring these competencies to actual care settings.
MCH renovated the 13,352-square-foot unit for $3.3 million to meet TTUHSC's specifications for the new simulation center.
"Medical Center Hospital is TTUHSC at the Permian Basin's primary teaching hospital, and as such we have a very strong commitment to prepare the next generation of nurses and doctors," said Bill Webster, Medical Center Health System CEO. "When the opportunity came for us to work with TTUHSC on this project, the Ector County Hospital District Board and Medical Center administration embraced it. We value our long-standing relationship with TTUHSC and this center will not only help train the students and residents but our clinical staff as well."
Simulation instruction areas include:
Authentic health care environments that include high-tech equipment, mannequins, simulators and supplies needed to facilitate learning experiences like an operating suite and scrub room
Authentic simulated hospital patient and clinic examination rooms to represent the patient care environment of a surgical unit or long-term care facility
Virtual reality and 3-D visualization that supports learning and competency evaluations
Computerized digital audio-visual system in all rooms
More than 200 medical, nursing and physician assistant[BROKEN LINK] students from TTUHSC at the Permian Basin will use the innovative simulation facility. Other community health care professionals will also utilize the center for training purposes.
Image Gallery