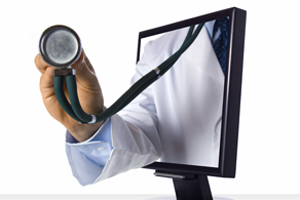 Prior to receiving the grant, neither Texas or Louisiana were affiliated with a Telehealth Resource Center to assist in telecommunications health care delivery.
The Telemedicine Program at the F. Marie Hall Institute for Rural and Community Health recently received a four-year $1,308,242 grant from the Health Resources and Services Administration to create the TexLa Telehealth Resource Center.
Telehealth Resource Centers serve as focal points for advancing the effective use of telehealth, a subset of telemedicine that encompasses the delivery of health care and education via telecommunications technology. The U.S. Office for the Advancement of Telehealth funds two national and 12 regional Telehealth Resource Centers across the country.
"This is the first award of its kind for Texas and it is awarded in recognition of the excellence of the telehealth work that our telemedicine team has done to link rural communities to specialists who are often located in urban centers," said Billy U. Philips, Ph.D., executive vice president and director of the F. Marie Hall Institute for Rural and Community Health.
The TexLa Telehealth Resource Center will be comprised of university telehealth programs at TTUHSC and the Louisiana State University Health Care Services Division. Prior to grant approval, Texas and Louisiana were not associated with a Telehealth Resource Center.
"We will address five primary objectives that will develop, expand and improve efficiency and outcomes of telehealth across the region," saidDebbie Voyles, MBA, director of the Telemedicine Program. "We will educate providers, patients and decision-makers and provide technical assistance and consultation toward better and more effective and sustainable service delivery and enhance provider-patient satisfaction."
Strengthening primary care services is a priority in all of the contemporary health care reform plans. At present, Texas ranks 48th and Louisiana ranks 23rd in the number of primary care providers per 100,000 populations. Both states face challenges with respect to physician and other health care workforces not because of an overall shortage, but because of a sharp disparity in the allocation of health care resources in different parts of the states.
"A recent agency for Health Research and Quality report ranking several metrics for all states shows the overall health care quality was in the weak category for Texas and Louisiana," Philips said. "The use of telehealth resources can also improve both states' ability to better manage chronic conditions and improve population health outcomes."
Telemedicine began at TTUHSC in 1989 as a grant-funded research project, originally designed to connect the institute's campuses in Lubbock, Amarillo, Odessa and El Paso. With the use of distance communications for education and teleconferencing, it was logical that links could also be made from Lubbock to distant rural sites for the purpose of live medical consultations.
The F. Marie Hall Institute for Rural and Community Health supports rural citizens through the Telehealth Resource Center, the West Texas Area Health Education Center, Project FRONTIER, the West Texas Health Information Technology Regional Extension Center and the Telemedicine Program.