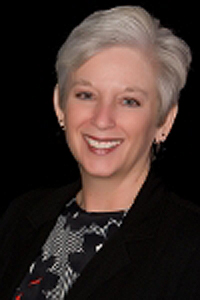 Conditt was the director of two other AHEC programs before coming to West Texas.
The F. Marie Hall Institute for Rural and Community Health recently announced Rebecca Conditt as the new director of the West Texas Area Health Education Center (AHEC).
"Ms. Conditt is a colleague and someone that we have worked with to develop innovative health programs in rural East Texas and will bring that keen knowledge and creativity to her new post with the West Texas AHEC," said Billy Philips, Ph.D., vice president and director of the institute. "She has worked in nearly every position within regional AHECs and will be ideal for working with the staff of our five regional centers and the people they serve."
As director of the West Texas AHEC, Conditt will oversee an expansive program jointly funded by Texas state appropriation and federal grant funding. She will begin her duties on Nov. 1.
"I am honored to be chosen for this position," Conditt said. "I look forward to learning more about the region and how the institute and specifically AHEC can work with the communities to make West Texas a healthier place to live. AHEC is a wonderful program that can do tremendous things. I am energized about this wonderful opportunity and plan to hit the ground running."
Conditt most recently was the director of the Capital AHEC and prior to that Piney Woods AHEC. She has 18 years combined experience in the East Texas AHEC. She also has served as executive director of the Texas Rural Health Association, the advocacy and education organization for rural health issues in Texas.
The West Texas AHEC addresses the health care provider shortage and improves health care access in West Texas through education and development of the health care workforce. AHEC introduces children in kindergarten through 12th grade to health careers, supports rural clinical training for students who are in the health professions, provides practice support to existing health care professionals, promotes healthy living and assists in community-based health planning.